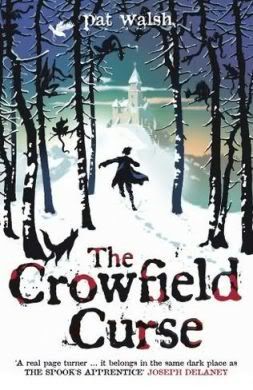 Publisher:
Chicken House
Format:
Paperback
Released:
January 4th, 2010
Grade rating:
B+
Amazon summary:
It's 1347 and fifteen-year-old Will, an orphan boy, lives at Crowfield Abbey. Sent into the forest to gather wood, he rescues instead, a creature from a trap - a hob, who shares with Will a terrible secret. Somewhere in the forest behind the abbey where he lives,is a grave. And buried deep in the snow is an angel. But how can an angel die? What has it to do with the monks of the Abbey? When two hooded strangers arrive at Crowfield asking questions about the angel's grave, Will is drawn into a world of dangerous old magic.
..
Review:
Pat Walsh's atmospheric debut offering is a historical fantasy with a magical twist. Gone are the expected swords and battles, and in their place are mysterious angels and loveable hobs.
A hob is a fay creature, with similar physical attributes to that of a fox. They can hold conversations as well as the next human, and prove quite useful when unravelling age-old mysteries of angels buried in nearby forests. Brother Walter is a lovely little guy, and due to my enthusiasm for tiny creatures, I fell in love with him straight away. He was by far my favourite character, though Brother Snail came a close second. I had a bit of trouble connecting with William, just because he didn't present himself as a particularly endearing character. I liked him more as I got to know him, but he didn't leave a strong impression on me.
The setting of
The Crowfield Curse
is fairly unusual for a YA book, and isn't something I remember coming across before. An isolated abbey makes for an intriguing place of residence for the monks, and provides a sense of isolation that makes the story seem that much more ominous.
The arrival of two strangers sees life at Crowfield Abbey take a turn for the creepy, and William uncovers a local legend of sorts. With the help of Brother Walter and Brother Snail, a fascinating history unfolds, and that's when the story really finds its feet. Up until that point, things move along at a fairly slow pace, while Walsh sets everything up with the utmost attention to detail.
1347 is an interesting time period to explore, and this is one of
The Crowfield Curse
's most appealing elements. Walsh took a chance on an almost forgotten time, and I think it more than paid off. I can't wait for the sequel and the return of the fay creatures, and I just hope Brother Walter keeps himself out of trouble!