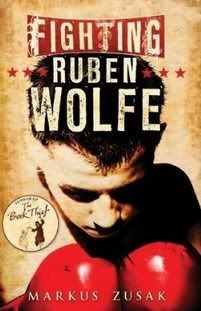 Publisher:
Definitions
Format:
Paperback
Released:
January 28th, 2010
Grade rating:
B+/A-
Amazon summary:
Keep it clean, fellas. Fair fight. Okay. Do it. Don't go down. If you go down, get up. The bell, the fists, the fight. It begins, and the first round is death. The second round is the coffin. The third is the funeral. The Wolfe brothers know how to fight - they've been fighting all their lives. Now there's more at stake than just winning.
Review:
The fantastic Mr. Zusak is back, with a long-awaited UK reprint of his early novel
Fighting Ruben Wolfe
, which was first published in Australia in the year 2000. It's not quite in the same league as
The Book Thief
, but his excellent writing and characterisation still shines through in true Zusak style.
Brothers Cameron and Ruben Wolfe head up this gritty tale of family and fighting, and show just what determination and a sense of pride can achieve. When their father loses his job and starts struggling to pay the bills, the brothers know they have to do something. An underground boxing ring provides the perfect way to make quick cash, and vent some anger at the same time.
Zusak's depiction of the Wolfe family is so realistic it's hard to remember you're reading about fictional people. They face the prospect of going on the dole, vicious rumours about their daughter's sexual promiscuity and the worrying need for more money. It's refreshing to read about everyday problems like these, rather than exaggerated situations that are impossible to relate to. I don't know whether any of these plot lines stem from personal experience on the author's behalf, but whatever the reason for their inclusion, I'm just glad they're there.
Ruben's fight scenes, though quite harrowing, are action-packed and suspenseful. They'll no doubt be a big hit with the boys, and will give girls an insight into a very male-orientated sport. The same can be said for the male narration. It's such a nice change to be in a guy's head, and to see what they really think about girls, school and life in general.
Fighting Ruben Wolfe
is a story about pride, strength and that unbreakable bond between two brothers. It takes a simple premise and gives it depth and emotion, while never straying from the authenticity of the situation. I only wish it was longer, which would have allowed for more development and more time with the Wolfe family. I'm keeping my fingers crossed that the sequel,
Getting the Girl
, will be released here one day, as I need another new Zusak fix as soon as possible.