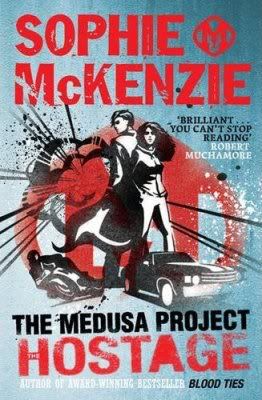 Publisher:
Simon & Schuster UK
Format:
Paperback
Released:
January 7th, 2010
Grade rating:

C+
Amazon summary:
Fourteen years ago, four babies were implanted with the Medusa gene - a gene for psychic abilities. Now teenagers, Nico, Ketty, Ed and Dylan have been brought together by government agents to create a secret crime-fighting force - The Medusa Project. But now Ketty's brother Lex has stumbled into a dangerous game involving his boss and a hidden bomb. It's up to Ketty to save him without letting on what she knows to the rest of the team. But can she control her psychic visions, and her feelings for Nico, without getting the team's cover - and herself - blown sky high?
Review:
Sophie McKenzie is a bit of a teen institution here in the UK, and has garnered lots of critical acclaim and numerous awards. She's got the ideas to write a great story, and always puts a lot of thought and effort into her characterisation.


The Medusa Project
series is an interesting premise, and is paced as fast as TV show
24
. I didn't like this second instalment as much as the first, though I still enjoyed it and whizzed through it. My problem with this particular book was Ketty's narration. She wasn't as captivating as Nico, and at times seemed to be overly dependent on the other three Medusa kids. I didn't gel with her or the other characters as much this time around, though I do think
The Hostage
had a much better storyline than
The Set-Up
.
I love the idea of the Medusa gene, and all the special powers Nico, Ketty, Ed and Dylan have found themselves with. As each book progresses and is told from the point of view of a different character, more information about their powers is revealed, and they get the chance to use them in different environments. Think teenage X-Men in England, and you'll get what I mean.
The Rescue
, the fourth book in the series, is due for release in July, and I'm really looking forward to it. Ed will be at the forefront this time, along with his pretty cool but uncontrollable mind reading talent and shy nature. It sounds like a recipe for disaster to me!