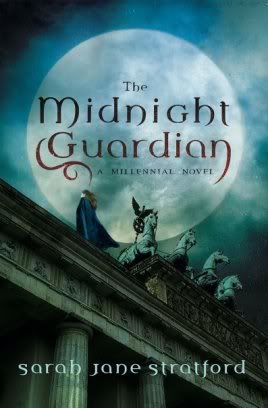 Publisher:
St. Martin's Press
Format:
Hardcover
Released:
October 13th, 2009
Grade rating: A-

Amazon summary:
It's 1938, and the tentacles of Hitler's terrifying Third Reich have commenced their stranglehold on Europe. London's ancient tribunal of vampires is aghast at the destruction taking place on the Continent. Though vampires try not to interfere with human politics, Hitler's terrible plans force them into action. But as the Millennials attempt to penetrate and sabotage Hitler's armies, they discover that the Nazis are more capable than any human force they've yet encountered and more monstrous than they'd ever imagined. Forced to take bolder, more dangerous steps, they soon attract the attention of specially trained vampire hunters loyal to Hitler and his vision of a vampire-free Europe. Exposed, deep inside enemy territory, with vicious Nazi officers and hunters at her heels, they must attempt a daring escape from the Continent, guarding precious cargo that marks the only hope of salvaging their mission.
Review:
I don't normally read many adult novels, but every now and then, one will catch my eye. As soon as I knew that
The Midnight Guardian
mixed vampires and the Second World War -- two of my favourite subjects to read about -- I knew I had to give it a go. I'm so glad I did!
I love the vampire mythology of the Millennials, thousand-year-old vampires that are super strong and harder to kill. It takes a lot of hunting for me to find something different in the vampire genre, so I was pleasantly surprised to find that the Millennials fit into what I was looking for. Brigit is the main focus of
The Midnight Guardian
, and her present, as well as her past, is documented in great detail. Her soulmate Eamon recounts Brigit's early life, both human and vampire, and her existence spans hundreds of years, starting back when the Vikings were around.
The decision to set this story in the throes of WWII worried me initially. I didn't want it to be poorly executed, or to glorify that terrible period of history. Stratford doesn't take anything lightly, and takes great care in portraying the Nazis exactly as they were. Hitler is mentioned, but never featured, and I think that was the right thing to do. There's a point when fiction can blur too much with reality, making it unbelievable and distasteful, and Stratford succeeds in never crossing that line.
The Midnight Guardian
is written intelligently, with a style and content suitable for the YA audience. There are a few gruesome, violent vampire scenes, but it's nothing too bad. The few sex scenes are written with taste and, while not quite as tame as what you'd find in a typical YA book, aren't overly explicit. Don't be put off by this book living on adult shelves, as it's worthy of being read by a much wider audience.
An unusual setting, clever characters and interesting vampire lore make
The Midnight Guardian
a fantastic debut novel. Stratford knows what she's talking about, and her love of history is engrained on every page. It's a welcome addition to the hordes of vampire stories out there, and I can't wait for the next book in the series.