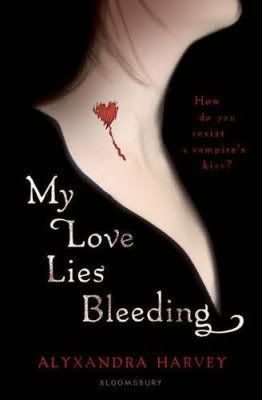 Publisher:
Bloomsbury
Format:
Paperback
Released:
January 4th, 2010
Grade rating:
B-
Amazon summary:
The Blakes are rather different to your usual neighbours. They are vampires and some of the members of the family date back to the twelfth century. One of the children, Solange, is the only born female vampire known and, as such, she poses a direct threat to the vampire queen. Her best friend Lucy is human, and when Solange is kidnapped Lucy and Solange's brother, Nicholas, set out to save her. Lucy soon discovers that she would like to be more than just friends with Nicholas. But how does one go about dating a vampire? Meanwhile, Solange finds an unlikely ally in Kieran, a vampire slayer on the hunt for his father's killer.
Review:
My Love Lies Bleeding
is one of those series books that sets things up nicely, but often fails to be as good as future instalments. At times it felt very rushed, and there was never any doubt that more Drake stories would follow. I've found that this can happen a lot with a series, and although it's not necessarily a bad thing, it does sometimes make for a lesser reading experience.
The new vampire mythology and various groups of hunters was something that particularly interested me, and I took an instant liking to the Helios-Ra, a group of trained vampire assassins. While they were certainly nothing new in the world of the fanged, they were written with a certain edge that made them stand out. The idea of a vampire hierarchy with princesses and queens was also used well, and isn't something I've seen much of in YA bit lit.
The Drake family themselves were fairly easy to relate to, though I had trouble with the name Solange. It didn't seem to fit her character and, to be honest, I hated it. What I didn't hate, however, were her seven vampire brothers. Seven attractive, super-skilled vampires, you say? Yes, you heard me right. And they rocked! Nicholas was the obvious favourite, with smooth talker Logan coming in a close second.
The ending of
My Love Lies Bleeding
was over pretty fast, with less explanation and more action. It did set up the sequel well, and there are plenty of directions that the plot can take in book two. I'm hoping for more dual narrative, a bigger spotlight on my favourite female character Lucy, and a big bad hellbent on destroying the Drake family once and for all.
When reading this book, I kept telling myself to remember that
Eclipse
is better than
Twilight
. With that in mind, I think things are definitely looking up for the Drakes. Bring on
Blood Feud
!