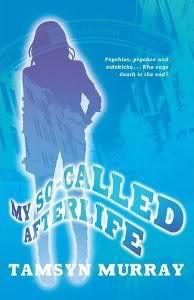 Waiting on Wednesday idea from Jill at Breaking the Spine.
-----
My So-Called Afterlife
by Tamsyn Murray
* Published by:
Piccadilly Press (UK)
* Format: Paperback (UK)
* Release Date:
February 26th, 2010 (UK)
* On Amazon:

here
.
Amazon summary: Meet Lucy Shaw. She's not your average fifteen year old - for a start, she's dead. And as if being a ghost wasn't bad enough, she's also trapped haunting the men's toilets on Carnaby Street. So when a lighting engineer called Jeremy walks in and she realises he can see and hear her, she isn't about to let him walk out of her afterlife. Not least until he's updated her on what's happening in her beloved soaps. With Jeremy's help, Lucy escapes the toilet and is soon meeting up with other ghosts, including the perpetually enraged Hep and the snogtastic Ryan. But when Jeremy suggests Lucy track down the man who murdered her, things go downhill. Can Lucy face up to the events of that terrible night? And what will it cost her if she does? A wonderful debut novel which, as well as being laugh-out-loud funny, is full of insights, compassion, and love.
I'm really looking forward to reading this one. It sounds funny and unusual, and the synopsis reminds me of the TV show Dead Like Me.