For anyone who doesn't know, Markus Zusak is the author of many YA books, most famously
The Book Thief
. It's the best book I've ever read and he is, without a doubt, my all-time favourite writer. Getting the chance to ask him some questions is the highlight of my year in blogging, and I'd just like to say thanks to Clare and Markus himself for making it happen. Right, enough of my excited introductions, onto the questions...
----------
Fighting Ruben Wolfe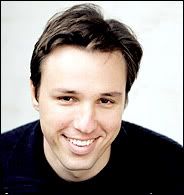 Fighting Ruben Wolfe
has just been reprinted here in the UK, almost ten years after it was first released in Australia. Are you happy that this book has such longevity, and is now reaching a wider audience?
It's more just a nice feeling to put something out that you wrote a long time ago. Maybe there isn't as much at stake because the memory of it isn't so fresh. You've moved on. On the other hand, it's easy to be embarrassed by work you did so long ago. On the whole, it's just fun that the book has been given another life in the UK.
Ruben and Cameron are very realistic characters, with a strong brotherly bond. Did your own family life inspire any of their story?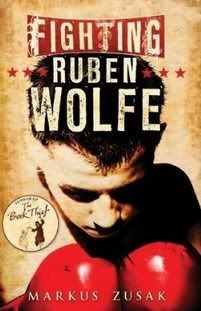 In a lot of ways, Cameron and Ruben are what my brother and I were like. The night-time conversations are especially true to life. When we were teenagers, the only time we really talked to each other was across the room we shared, at night, when the lights were out.
Do you think this earlier, grittier story will still appeal to your older readership?
I'm not sure. I think my hope is that people who come to this book through the ones I've written more recently will read this in light of it being a stepping stone to the books that came after.
What message do you hope readers will take away from this book?
It's not so much a message, but maybe more of a feeling or even a memory of growing up – as well as all of the hopes, fears, failures and occasional wins we have in that period. At least in my case, I think I felt those things more forcefully at that age.
I Am the Messenger
In
I Am the Messenger
, did you base main character Ed on your teenage self?
I don't think so. I think I was a bit more motivated than Ed Kennedy. Still, I was very much a loner at that age, much the same way Ed feels a little disconnected. Ed probably has a better sense of humour than me, though…
Did you ever see the stage version, and did you have any involvement in its adaptation?
I did see it (and they did a beautiful job), but I had no involvement in the adaptation. At the moment I'm a firm believer in the idea that screen and stage writing are very different disciplines to writing novels, so leave it to the experts. Maybe one day I'll look at getting involved in that sort of thing, but at the moment I'm struggling enough to write my next book.
The Book Thief
Your parents and grandparents lived through the Second World War. Were any of the events in

The Book Thief

based on their real-life experiences?
The Book Thief
has the stories of my parents as a jumping-off point, and overall, maybe ten to fifteen per cent of the novel is true. At some point the novel becomes itself, though. The moment you fictionalise something about a character, they are no longer the real person. In that regard, Liesel is Liesel. She isn't my mother any more.
Why did you choose to have Death as your narrator, rather than Liesel?
It just made sense to me because people always say that war and death are like best friends. During war time, death is everywhere, so who better to be hanging around to narrate a story in Nazi Germany? For me it also tied into the fact that we are all so afraid of death, but I thought, 'What if death, through witnessing all of these atrocities, is afraid of humans and haunted by us? What if he is telling this story to find just one more piece of beauty in the ugliest of times?' Death is trying to prove that humans are actually worthwhile.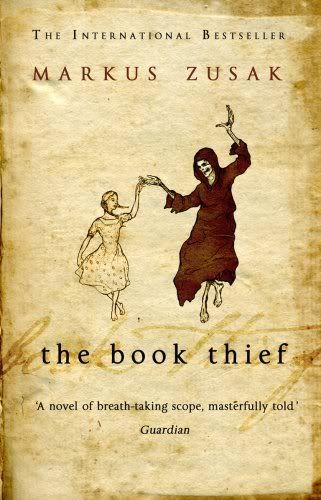 Death is such a lonely character, and always tries to stay detached from his work. What is it that draws him so strongly to the inhabitants of Himmel Street?
Again, I think it's just the thought of finding a beautiful story amongst the rubble of such a terrible time in human history. I think that's also what draws us as an audience back to Nazi Germany time and time again. It is like a well of amazing stories – because there are such extremities of terror and evil set against personal stories of survival and beauty.
I cry my eyes out every time I read the whole of Part Ten, and I still have no idea how you wrote it. Did you always know Liesel's story was going to end that way?
I always knew where it was going, especially once I brought death in as the narrator. If it's any consolation, I was an absolute mess when I sat up writing the last fifty pages of that book. It took me a while to recover. It also took me a long time to start writing again, because I knew I'd written something that meant everything to me. Once that happens, you don't want to settle for anything less than that ever again.
What was the hardest scene to write?
The hardest for me was having Liesel holding Rudy at the end of the book and talking to him. Rudy was my favourite character to write from the moment he turned himself into Jesse Owens in Part One… I loved him the most, so he was the hardest character to let go of. On the other side of that, people then ask, 'Well why didn't you save him?' to which I have to say, 'Not for one second did I consider letting Rudy live. I guess you have to do what is right for the book, not what is right for one character in the book.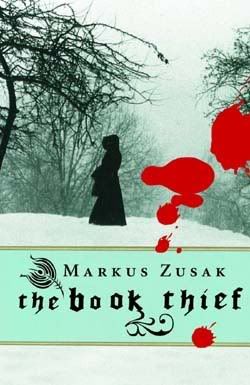 The UK adult book cover, which shows Liesel dancing with Death, is so beautiful and haunting. Of all the covers printed worldwide, which is your favourite?
I think it wavers a lot. The UK covers are definitely the most used by other countries. I have a soft spot for the Australian cover as well. Surprisingly, no-one else has used that one, but so it goes. Covers are the fun part for me. It's good to have no responsibility for them. I figure it's my job to write the book, and the publisher's job to sell it.
If the rumours are true, and

The Book Thief

is to be adapted for the big screen, how do you think it will translate? Do you think it will be easy to convey Death's thoughts and emotions?
I'm not too worried about the movie. Again, it's in the hands of the experts. People ask if I'm concerned they'll butcher the book and so on, but I just think I really have nothing to lose. If they make a terrible movie, people will just say the book is better. If they make a great movie, it will only help the book. Who knows? They may not even have Death as a figure in the story, but that would be a shame. I sort of like Death, I guess…
----------
Related links:
Extra:
Random House UK will be holding a live web chat with Markus on the 24th February from 5.30pm. A page will be up soon where you can register for the event, and I'll post more information when I have it.