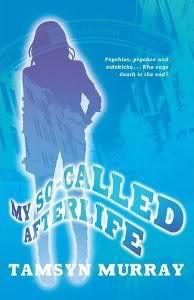 Publisher:
Piccadilly Press
Format:
Paperback
Released:
February 26th, 2010
Grade rating:
B
/B+
Amazon summary:
Meet Lucy Shaw. She's not your average fifteen year old - for a start, she's dead. And as if being a ghost wasn't bad enough, she's also trapped haunting the men's toilets on Carnaby Street. So when a lighting engineer called Jeremy walks in and she realises he can see and hear her, she isn't about to let him walk out of her afterlife. Not least until he's updated her on what's happening in her beloved soaps. With Jeremy's help, Lucy escapes the toilet and is soon meeting up with other ghosts, including the perpetually enraged Hep and the snogtastic Ryan. But when Jeremy suggests Lucy track down the man who murdered her, things go down hill. Can Lucy face up to the events of that terrible night? And what will it cost her if she does?
Review:
My So-Called Afterlife
is a great debut novel, with lots of humour, gorgeous ghosts and a murder mystery to keep you guessing. It has one of the funniest opening lines I've encountered, and more than its fair share of quippy, fast-talking dead people.
Lucy's stint in the men's toilets where she was murdered is hilarious, and I don't want to think of the sights she must have seen there. Luckily she does manage to leave that hellish place, and embarks on a journey through the streets of London. I was pleasantly surprised that I'd heard of some of the streets and landmarks, as I'm not very knowledgeable when it comes to London!
Lucy's friendship with Jeremy is a nice touch, and I like that she ends up helping him almost as much as he helps her. Ryan is also a welcome addition to Lucy's group of friends, and though their relationship does head in the romantic direction, I think it's difficult to relate to and slightly rushed. It all happens very quickly: one minute she is just meeting him, and the next they're having their first ghostly kiss. I would like to have seen more build-up and more tension, which is important when it comes to relationship development.
I enjoyed
My So-Called Afterlife
, and I'm really glad I got the chance to read it. I'm looking forward to Murray's next book,
My So-Called Haunting
, which follows new characters in their afterlife adventures. She's a writer to watch, and I'm sure she has great things planned for us.
-----

Quick Q&A with Tamsyn Murray
Do you think ghosts are the new vampires?
Oh, I thought angels were the next vampires :-) I love ghosts and thing they bring something new to YA fiction but I'm not sure they can have the same wow factor as 'flesh and blood' characters, unless the writer is skillful enough to make the reader forget they are reading about a ghost. I think Ryan, from
My So-Called Afterlife
, is a pretty hot ghost but no-one apart from other ghosts knows he's there. Vampires have traditionally had an air of glamour and fascination about them because they have to fool their victims long enough to bite them (unless they're Edward Cullen, of course). That said, I have plans for a gorgeous ghost to sweep Skye, the living heroine of my next book, off her feet in a future storyline!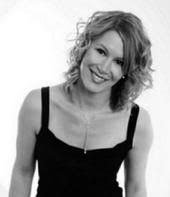 You've mentioned on Twitter that the hilarious opening line ('

I knew it was time to move on when a tramp peed on my Uggs

...') shaped the whole book. Can you remember where you were when it first came to you?
I was trying to come up with a new short story idea and was toying with what would happen if the building a ghost haunted (like a grand old house) was knocked down and something rubbish built on the land, such as a grotty toilet - would the ghost haunt the loo? Then I thought about all the horrible things that might happen in a toilet and Lucy popped into my head, totally grossed out because someone had peed on her brand new Uggs. Once she'd made her presence felt there was no stopping me and I finished the book in six weeks.
If, like Lucy, you found yourself stuck in the men's toilets, would you cause comedic havoc, or would you quietly hide away?
I think I'd be exactly like Lucy - at first, she hid herself away but then boredom set in. I have a very mischievous nature so it wouldn't take long for me to cause trouble, although I dread to think about some of the things Lucy must have seen!
Will any of
My So-Called Afterlife
's characters return in future stories?
Although the next book has a new main character in Skye, a lot of the elements of
My So-Called Afterlife
remain. So there's a full cast of ghosts, the Church of the Dearly Departed crops up, and Jeremy is back with his girlfriend, Celestine. And it's funny, I think! Plus, in a few books time I think Lucy and Skye may even meet up, which will be utterly awesome and really fun to write. I have big plans for them both...
What can you tell us about your next book,

My So-Called Haunting

?
The next book is different because the main character is alive, although there are still plenty of ghosts. It follows the story of Skye, a fourteen year old psychic who has moved in temporarily with her aunt, Celestine, while her mum is studying abroad. Skye soon discovers that her new school is full of surprises - like a ghostly teacher no-one else knows is there and the delectable Nico, who makes the rest of the boys fade into insignificance. It isn't long before Skye is falling for Nico and struggling to keep her psychic ability from him but Nico has secrets of his own. Add to that the troubled ghost of Dontay, a teen killed in a gangland shoot-out and Skye has more than she's able to handle. Can she trust Nico? Or will Dontay's past catch up with her first? Out September 2010.
Thanks, Tamsyn! For more information, visit Tamsyn's blog
here
, and make sure to follow her on Twitter @TamsynTweetie.