I'm really behind with my event reports, so that's why I'm doing my 2010 events so far in one post. I went to the Chicken House 10th Anniversary Big Breakfast, Puffin Media Presentation and a Maria V. Snyder signing in January, and a Lucy Christopher library talk in February (today). There are many pics, so apologies if this takes a while to load!
Chicken House 10th Anniversary Big Breakfast - 15th January, 2010
Chicken House are one of my favourite UK publishers. They publish some amazing books with lovely covers, and are home to many authors, such as Lucy Christopher (
Stolen
), Cornelia Funke (
Inkheart
) and Rachel Ward (
Numbers
). The Big Breakfast was held in London, and was attended by most CH authors, staff members and reviewers. I also finally met Jo from
Ink and Paper
/
Once Upon a Bookcase
, which was a nice surprise!
Barry Cunningham (Chicken House MD), gave a great speech, Lucy Christopher and Rachel Ward talked about their books and being published (as did some other authors), and Cornelia Funke read from her new book,
Reckless
(published September 2010). I spoke to loads of cool people and authors, including: Di Toft (I need to read
Wolven
!), C. J. Skuse (great taste in music & TV!), Lucy Christopher (love her!), Pat Walsh (lovely lady), Kevin Brooks (I'm still not over meeting him), Cornelia Funke (very briefly), Rachel Ward (I'm looking forward to
Numbers 2
!), Sophia Bennett (hellooooo!), and I'm sure I've forgotten to mention some other nice people! I didn't take any pictures (forgot my camera), but I did get Lucy to sign my copy of
Flyaway
. Yay!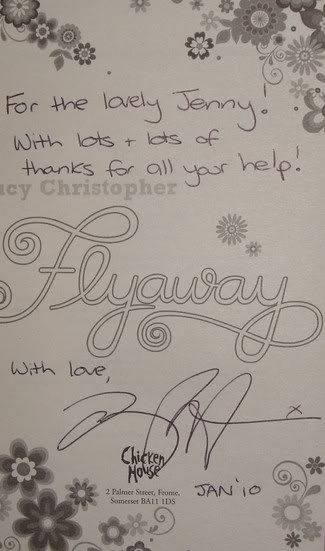 After that I went for a meeting with the lovely Lauren from Random House, and she went through some of their 2010 schedule. It was brilliant to finally meet her after a good couple of years of emailing!

----------
Puffin Media Presentation - 18th January, 2010
I love going to the Puffin offices (again in London), and would just like to say a big thank you to all the lovely ladies there for inviting me again, especially H and Tania. *thumbs up* Me and Liz of
My Favourite Books
had a great day, and got excellent seats at the front (well done, Liz!).
The 2010 presentation was so interesting, and went through books that will be coming up this year. They've got some fantastic stuff on the way, and nothing was more exciting than the news of a UK teen
Razorbill imprint
. Very, very cool. They also treated us to a preview of the
Percy Jackson and the Lightning Thief
film, which just looks brilliant. It's out next week... go and see it!
Authors in attendance were: Charlie Higson (
Young Bond
series /
The Enemy
), David Yelland (
The Truth About Leo
), Cathy Cassidy (UK teen queen), Jeanne Willis (picture book extraordinaire), Alex Scarrow (
TimeRiders
), and Sophia Jansson (niece of
Moomins
creator Tove Jansson). They all gave fascinating talks, and were absolutely lovely. I couldn't leave without asking Charlie to sign my copy of
The Enemy
, 'cause, well, he's Charlie Higson. :)
Keep your eye on Puffin's releases this year, I'm very excited about them, and I think you will be too!
----------

Meeting Marcus Sedgwick
- 18th January, 2010
Some of you will know that Marcus Sedgwick (
My Swordhand is Singing
/
The Raven Mysteries
series) is one of my favourite UK authors. He's quite brilliant, in fact. Anyway, his amazing Orion publicist Nina allowed Liz to interview him, and I tagged along. Nothing could have kept me away! He talked to us for a good hour and a half over some very tasty coffee, and he's a down to earth, genuinly nice guy. I asked him many questions about
The Raven Mysteries
, and I think we managed to record most of the interview. It should be up on Liz's blog sometime soon, which will be cool! On the subject of Edgar and Co, the new RM book,
Lunatics and Luck
, is so very good... go and buy a copy at the beginning of March. I'll be queueing to get a finished hardback!
Thanks to Marcus for signing some of my books too, they are now much prized possessions of mine. Signed
Flood and Fang
... yes!!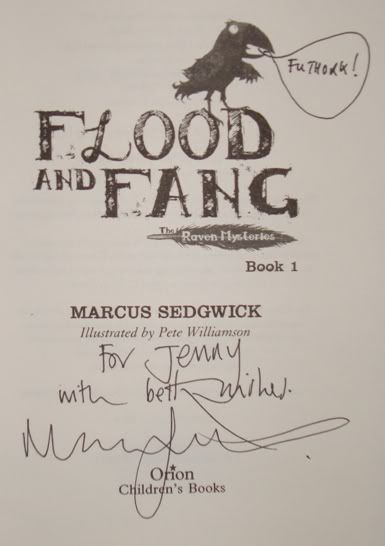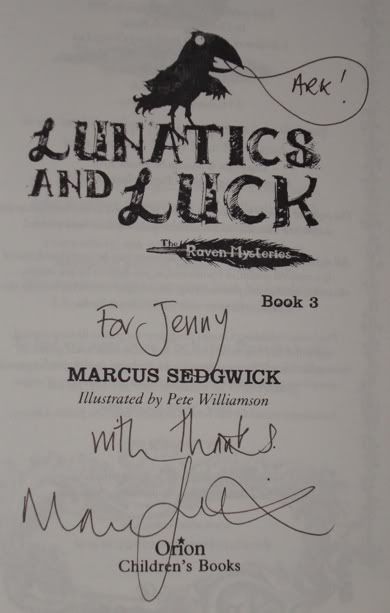 ----------

Maria V. Snyder signing - 18th January, 2010
To round off this epic of days, me, Liz, and fellow book lover Sarah all wandered off to meet Maria V. Snyder (
Study
series /
Glass
series) at a local cinema. She was a lovely lady, and was happy to chat and sign books for ages. We didn't stay around for the talk and film of her choice (too tired), but I hear it went well! I need to say a big hello to Becky from
The Bookette
, and my friend Leanne, who I also had a good chat with at the event. Fun was had by all, and thanks to Trisha of Murder One for organising it and Liz for letting me sleep on her couch!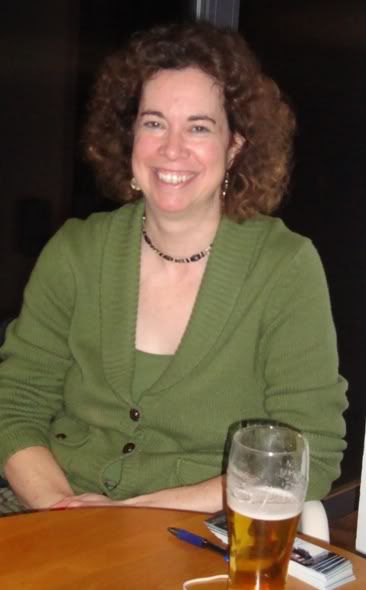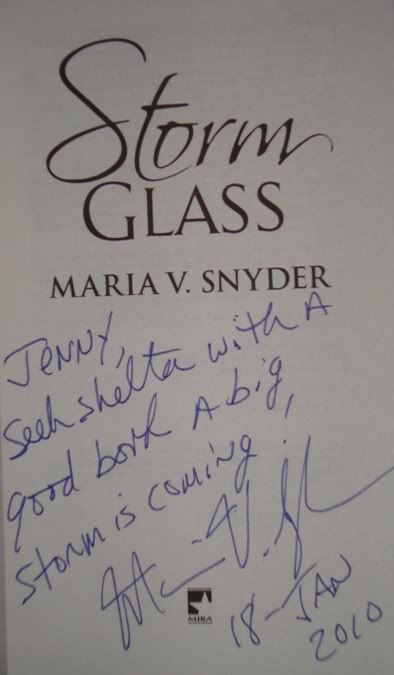 ----------

Lucy Christopher at Harris Library, Preston - 7th February, 2010
Me and Carla from
The Crooked Shelf
jumped on a train and went to Preston, to meet up with my friend and one of my favourite ladies, Lucy Christopher. We had a great lunch, and then went to Lucy's event at Harris Library. She talked about
Stolen
and
Flyaway
, answered questions and signed quite a large amount of books. It was a really good turnout, and the library was a great venue.
Lucy gave an interesting talk as always, and I really enjoyed hearing more about
Flyaway
. She's brilliant, and I'm keeping everything crossed that she wins the Waterstone's Children's Book Prize on Wednesday. She definitely deserves to! We went for book shopping and coffee afterwards, and Carla managed to talk Lucy into buying a copy of Maggie Stiefvater's
Shiver
. (Surprise or what?! - she's on a one woman
Shiver
publicity mission!) Below are pictures of Lucy with both me and Carla (last pic), as well as a few from the library.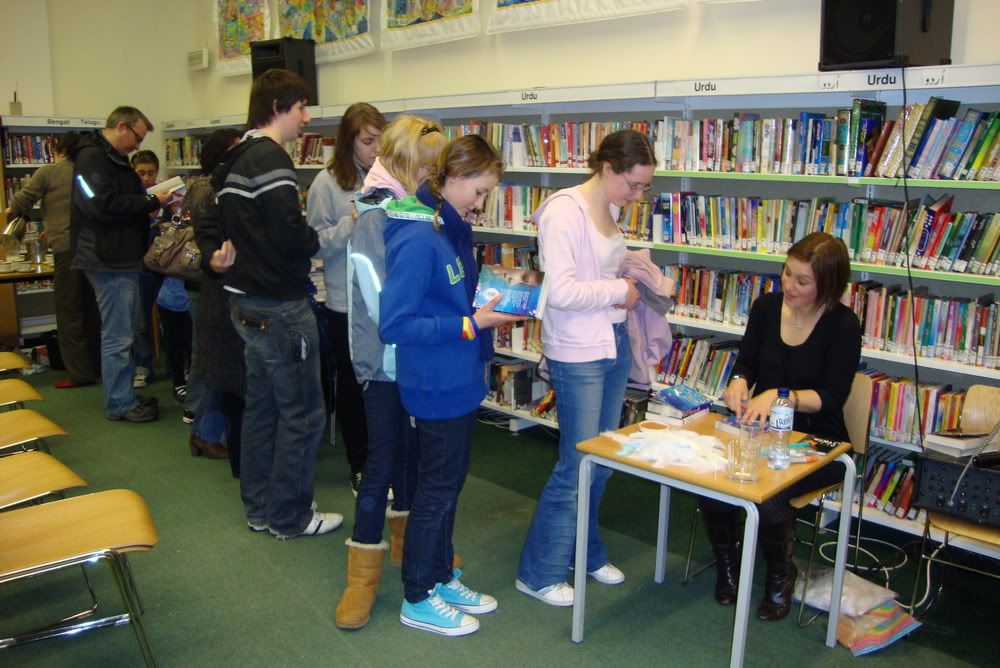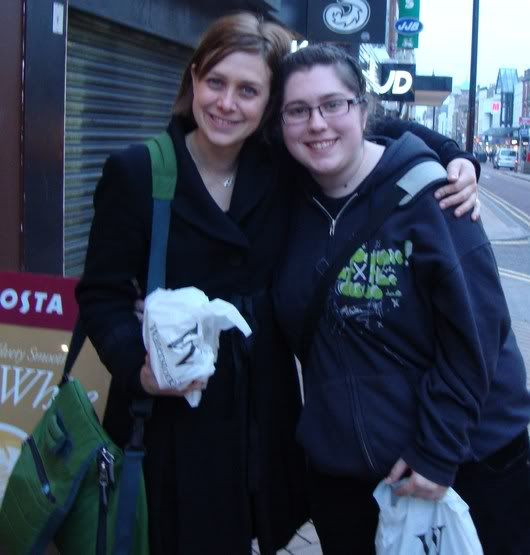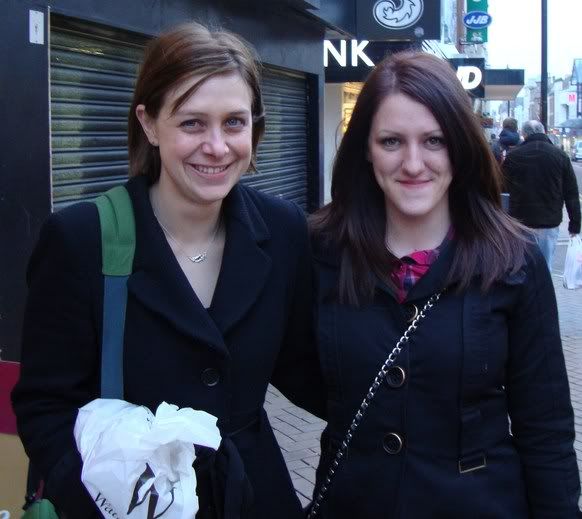 So that's my year so far... thanks for reading!