I'm sure everyone has seen and heard about the
Mockingjay
cover (
Hunger Games
book 3) by now, but I just had to post it. It's amazing! I'm so excited about this book, and I can't wait to read it. Here's some information from a Scholastic UK press release:
THE EAGERLY-AWAITED THIRD BOOK WILL BE PUBLISHED ON 24TH AUGUST 2010
Since the September 2009 release of
Catching Fire
, the second book in Suzanne Collins' best-selling
Hunger Games
trilogy, there has been a great deal of internet speculation about the title for the forthcoming third book. The wait is over. Today we can reveal that the third book will be called
THE HUNGER GAMES: MOCKINGJAY
.
In the series, mockingjays are government-bred mutant birds, the offspring of mockingbirds and jabberjays, created in order to spy on rebels. Mockingjays became the symbol of resistance in book two of the series, and many fans of the books, both in the UK and the US, have been wearing mockingjay badges to show their allegiance with Katniss Everdeen the heroine of the series.
-----

In other news, Bloomsbury UK are publishing a new novel by Celia Rees in April, titled
The Fool's Girl
. It sounds fantastic (info below), and you can read a sample chapter at the Bloomsbury site
here
. There's also a Celia Rees Facebook fan page you can join
here
.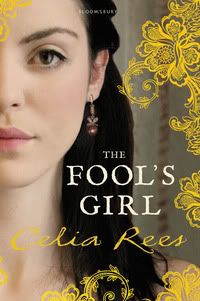 The Fool's Girl
opens in London 1601 with two characters just about to make the acquaintance of one William Shakespeare. Whilst watching an open air performance of
Twelfth Night
(her favourite Shakespearean comedy), Celia found herself asking what happens next? What if the couples weren't entirely satisfied with each other? What if the troublesome characters came back? The idea was born and so began the plan to tell the tale of Illyria after
Twelfth Night
ends.
Celia tells the story of Violetta, daughter of Viola. Violetta's uncle has all but destroyed Illyria and taken control of what little is left of her beloved country. Meanwhile, the evil Malvolio has stolen Illyria's sacred relic and sailed to England. Violetta and her aunt's fool, Feste, have followed Malvolio in order to return the relic to its rightful place and to restore Violetta to her role as Duchess of Illyria. But to do so they need the help of a certain playwright.
Celia's Shakespeare is yet to become the famous Bard we know him as today. In Celia's words: 'He would be a jobbing writer with inky fingers, trying to make a living, juggling his life in London with his life at home in Stratford, trying to survive, to keep his nose clean, in the dangerous, violent, difficult and volatile world at the end of Elizabeth's reign. Hard at work, trying to keep his Company going, writing and re-writing, always on the lookout for stories to keep up with the need for plays and more plays. When he happens upon two street performers, a Fool and his beautiful young girl assistant, he finds one.'
The Fool's Girl
is full of danger, adventure and romance. With enemies at every turn, every friend possibly a traitor, it makes for a thrilling and suspenseful read.