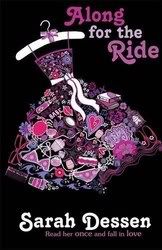 Publisher:
Puffin
Format:
Paperback
Released:
February 4th, 2010
Grade rating:
B+
Amazon summary:
Auden has always felt like the odd one out. Since her parents' divorce she's shied away, studying lots and staying out of the party scene. But now Auden's realized there must be something more and, just like that, she changes everything. Moving to her dad's house opens up a whole new world of beach parties, food fights - and simply having fun. As she gets to know herself - and a secretive boy with dark, brooding eyes - can Auden begin to let go and finally feel like she truly belongs?
Review:
I love how Sarah Dessen writes about family life, and the problems it creates and fixes. She's a master storyteller when it comes to writing about everyday life, and her characters are always so well-crafted and layered. While I didn't think
Along for the Ride
had her usual spark, it's still miles better than a lot of YA fiction out there, and is a great addition to the Dessen library.
Auden, Eli and Co. are all fantastic characters, who are haunted by the past and afraid to face the future. They remind me of an ensemble cast from a TV show -- one that's perfectly chosen and flawlessly acted. I could imagine these people living together in the small town of Colby, almost as if I was there myself. Their personalities jump off the page, and demand your undivided attention.
This time around, I wanted more romance. Yes, Auden and Eli click; they have chemistry, they understand each other... but there isn't enough of them. Their relationship is quite a late development, with earlier time devoted to Auden and her family's situation. I didn't mind that at all, I just wanted more of the strong, all-consuming romance I've become so accustomed to.
As is commonplace with any Dessen novel, the writing is almost mesmerising. It flows well, draws you in, and holds you in a vice until you reach the final sentence. I can never put one of her books down for long, and if I have to, it's for absolute necessities. She's still my Queen of Teen, and I really can't wait to see what she comes up with next. I just know it'll be good.