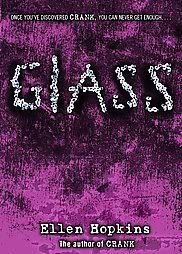 Publisher:
Margaret K. McElderry
Format:
Paperback
Released:
August 21st, 2007
Grade rating:
A
Amazon summary:
Crank. Glass. Ice. Crystal. Whatever you call it, it's all the same: a monster. And once it's got hold of you, this monster will never let you go. Kristina thinks she can control it. Now with a baby to care for, she's determined to be the one deciding when and how much, the one calling the shots. But the monster is too strong, and before she knows it, Kristina is back in its grips. She needs the monster to keep going, to face the pressures of day-to-day life. She needs it to feel alive. Once again the monster takes over Kristina's life and she will do anything for it, including giving up the one person who gives her the unconditional love she craves -- her baby.
Review:
Glass
is the fantastic sequel to
Crank
, and continues to chronicle a girl's downward spiral into the world of drugs and addiction. Surprisingly, I preferred it to
Crank
, and I think that's largely due to Hopkins evolving as a writer. It resonated with me more as a reader, and I loved getting an opportunity to spend more time with Kristina and her family.
As was the case with
Crank
,
Glass
is not an easy or pleasant story to get through. It can, at times, be very difficult to read, especially as Kristina finds herself once again addicted to the monster. No amount of family advice or help can put her back on the right path, and this becomes apparent when she all but ceases to care for her own child.
I did find myself liking new boy Trey, and whether that's a good thing or bad, I don't know. He's an incredibly flawed character, and is in no way the person Kristina needs at that point in her life. There's never any doubt that he's a bad influence, though he does seem to be a strangely good fit for her. He at least tries to be supportive, and I believe his heart is in the right place. It's just a shame he can't kick crank and, in doing so, show Kristina that it is possible.
This series, along with Hopkins' verse writing, absolutely fascinates me. For me, it's a voyeuristic look into the lives of teenagers who desperately need help, but who can't stay away from drugs long enough to get it. Their stories are hard-hitting and important, and they should be a permanent fixture on school library shelves everywhere. If ever there was an author or a series of books with the power to educate teens on the ramifications of substance abuse, it would be Ellen Hopkins and the
Crank
series. I just hope these books continue to get the respect they deserve, as they really do have the ability to help and change lives.