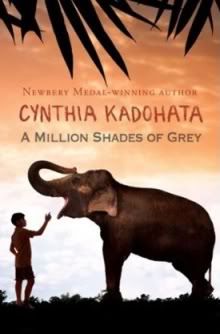 Publisher:
Simon & Schuster
Format:
Paperback
Released:
February 4th, 2010
Grade rating:
B
Amazon summary:
Ever since Tin can remember he's wanted to be an elephant trainer. At twelve years old, he's the youngest - and in his eyes the best - elephant handler in his village. Tin can think of nothing he'd rather do that spend all day with his elephant, Lady, looking after her and playing together. But Tin's peaceful, idyllic life is changed dramatically when the Viet Cong attack his village and he finds himself held hostage by the terrifying soldiers who don't care if he lives or dies. Can Tin find the courage to escape from his captors and save not only his own life, but his precious elephants too?
Review:
Before reading
A Million Shades of Grey
, I didn't really know a lot about the Vietnam War. I didn't know the politics or reasoning behind it, or the extent of the horrors that people experienced. Kadohata ended up giving me a history lesson of sorts, and for that reason alone, I'm glad I read this book.
Y'Tin's tale is one of bravery and hope, and is as much a coming of age story as it is an adventure. Nothing makes a boy grow up like being in the middle of a war and, as horrific as it is, the whole experience undoubtedly makes Y'Tin become a man. His beloved elephant, Lady, is an important part of his life, and is a constant companion to him and his family. Their bond is strong and unwavering, and is the kind that you enviously read about or see depicted in films. I never knew elephants could be so close to humans, which again just shows how much I know about this way of life.
The pace of this book is quite slow and steady, with a lot of character building and scene setting. I wanted it to speed up and get going, and make me unable to put it down. It didn't do that, but it did hold my interest plot-wise. I was fascinated by the conflict between North and South Vietnam, and by the differences in the various tribes. I also now know a lot more about elephants, like the fact that their teeth grind down and they grow more!
If you like your books with historical elements, strong characters and an animal that you'll fall in love with, I'd recommend
A Million Shades of Grey
. As well as being good for educational purposes, it's also a lesson in humanity, and what it means to survive.