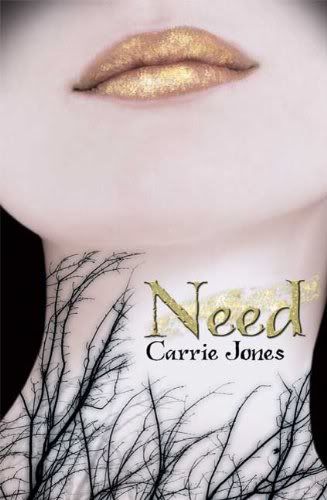 Publisher:
Bloomsbury
Format:
Paperback
Released:
February 1st, 2010
Grade rating:
B/B+
Amazon summary:
Zara collects phobias the way other high school girls collect Facebook friends. It's little wonder, since she's had a fairly rough life. Her father left when she was a baby, her stepfather just died and her mother's almost given up - in fact, she's sent her to live with her grandmother in cold and sleepy Maine to 'keep Zara safe'. Zara doesn't think she's in danger; she thinks her mother just can't cope. Zara's wrong. The man she sees everywhere - the tall, creepy guy who points at her from the side of the road - is not a figment of her imagination. He's a pixie. But not the cute, sweet kind with little wings. Maine's got a whole assortment of unbelievable creatures. And they seem to need something - something from Zara...
Review:
I really enjoyed
Need
, which I'm glad about. Prior to reading it, I'd read many mixed reviews, so I wasn't sure what I'd make of it. My verdict: pixies are my new supernatural interest. Thanks for that, Ms. Jones!
The one thing that stood out for me was Zara's unusual knowledge of phobias. I hardly knew any of them, and came away from the book feeling very well educated. I also think I have a few of these phobias, but hey, I'm sure I'm not alone. (Big spiders? No thanks!) Starting each chapter with a different phobia explanation was inventive, and I hope
Captivate
does something equally cool.
I related to Zara quite quickly, along with her friends Devyn and Issie. Aside from the fact they figured the whole pixie thing out very quickly, they were realistic and likeable, and I can see their friendship developing more in the sequel. I could have done with less of Zara's Amnesty International talk, though I do like that she had a passion for something other than fashion and boys. Speaking of boys, Nick was a fantastic male character: hot, strong, brave... exactly what a girl needs. I'd like to see more of him, please!
Carrie Jones created a creepy setting in Maine, and made it a believable place for evil pixies and supernatural beings to live. Her writing was compelling, the twists were surprising, and I loved the pixie mythology she included in the story. I think
Twilight
fans will really like this one, and I for one can't wait to read
Captivate
.