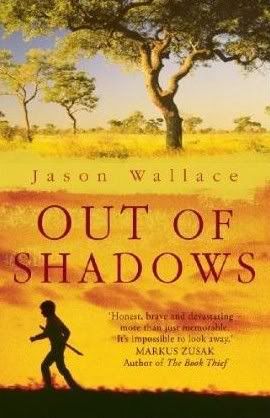 Publisher:
Andersen Press
Format:
Paperback
Released:
January 28th, 2010
Grade rating:
A
Amazon summary:
Zimbabwe, 1980s. The war is over, independence has been won and Robert Mugabe has come to power offering hope, land and freedom to black Africans. It is the end of the Old Way and the start of a promising new era. For Robert Jacklin, it's all new: new continent, new country, new school. And very quickly he learns that for some of his classmates, the sound of guns is still loud, and their battles rage on ...white boys who want their old country back, not this new black African government. Boys like Ivan. Clever, cunning Ivan. For him, there is still one last battle to fight, and he's taking it right to the very top.
Review:
Out of Shadows
is one of the best debut novels I've ever read. It's fantastically written, and has left me close to how I felt when I read
The Book Thief
for the first time. It's powerful and important, and at times horribly shocking. I sat there in stunned silence after reading one particular page, and had to take a minute to fully comprehend what had happened. That's strong writing, if ever I saw it.
Out of Shadows
begins in 1983, a few years after the end of the Rhodesian Bush War (or the Zimbabwe War of Liberation). Robert Mugabe is now Prime Minister, and Zimbabwe is no longer ruled by white people. I hardly knew anything about this historical event before reading this book, and so once again I was given a history lesson. It's very interesting, and is the first time I've come across this setting in a YA book.
Robert Jacklin is a very likeable character for most of the book, and I'm so glad it's written in the first person. He started off as an unassuming 13-year-old, and grew into a strong, decent man right before my eyes. He has more tough decisions to make and bad choices to live with than anyone that age should, but each shapes his life and who he becomes. His friends are a less desirable bunch, and though I see why Robert was so eager to be part of their group, things would have been vastly different if he'd stayed well away.
At times chilling and dark, yet strangely hopeful,
Out of Shadows
is one of those books that I know I'll revisit in the future. I've been thinking about it ever since I finished it, and am finding it hard to get it out of my head. I can't recommend it highly enough, and I hope it eventually gets the recognition and praise it deserves.