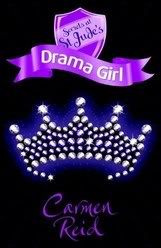 Publisher:
Corgi Childrens
Format:
Paperback
Released:
January 28th, 2010
Grade rating:
B
Amazon summary:
You'd think that being stuck in a stuffy girls boarding school would mean life was dull and dreary, but this term the St Jude's girls are in for some serious drama! Gina can't wait for her mum and friends to make the trip over to visit her from sunny California, but things don't exactly go to plan and she finds herself stuck in the middle of them and her new friends and hunky boyfriend. And things don't get better as the rest of her dorm-mates have their own dramas to deal with... Niffy is not happy about her best friend and her brother becoming a couple - yuck! Min wishes she had the confidence to finally kiss her new boyfriend, and poor Amy is starting to do anything to look thin for the school play. Will all the drama be resolved...?
Review:
The
St Jude's
series is one of my favourite to come out of the UK, and it gets better with each book. There's character growth, positive messages, and a whole load of innocent teenage fun to be had with the girls from St Jude's boarding school.
Drama Girl
is the most serious installment yet, dealing with important themes and issues such as eating disorders and self-esteem. I think it's so important to include these storylines in teen books, as it speaks to teenagers in a subtle yet informative way. Although most things wrap up happily at the end of the book, Carmen Reid never skirts around the importance of realising you have a problem, and being able to ask for help.
Friendship is what the
St Jude's
series is about, and that still has a strong presence in
Drama Girl
. Boys and brothers might get in the way, but the four girls -- Gina, Niffy, Amy and Min -- always support and come back to each other, and remember what's important. It's like
Sex and the City
for the younger generation, if it was set in Scotland and was actually funny.
Reid clearly knows her characters inside out, and knows what it's like to grow up in that environment. Her writing is humorous and easy to read, and makes the time fly by. I'd like to see more romance in the next book, and a little less emphasis on the girls and their bond. Three books in, I know they're best friends forever, and now I want to see how they cope when they're not the most important people in each other's lives. Can they survive that? Yes, I think they can.