Carmen Reid is the author of the teen
Secrets at St Jude's
series, as well as many adult chick-lit books, including the
Personal Shopper
series. Thanks, Carmen!
----------
When did you first decide you wanted to write for a teenage audience?
I was keen to write for younger children (as I have two of those!) but my publishers twisted my arm slightly to think about a teen audience. Once I started delving into all those repressed memories I found it was very enjoyable getting in touch with my inner teen. I really love the four St Jude's girls and hope readers will enjoy their ups, downs and adventures just as much as I do.
Is the

St Jude's

series based on any of your own boarding school experiences?
Yes lots! The school is very like the one I went to – all girls and quite old-fashioned, with girls straining to rebel at all times. Many of the stories are based on things that happened, or were said to have happened or could have happened! But what goes on in a
St Jude's
book is a lot more exciting that real boarding school, where there might only be one interesting event in a whole term. Also, I spent four years at boarding school and I never had a close group of friends until my final year, so maybe I'm creating the gang of friends I'd like to have had.
Do you have any embarrassing school stories you can share with us?
Oh so many: the outfits, the terrible haircuts for starters! I remember a group of us boarders going out to see an 18 film when we were about 14. We got caught because a few days later, the housemistress grilled one of the group about the film we said we'd gone to see. It was deep trouble and deep humiliation all round. Everyone in the whole house knew about it and it was just so embarrassing. So whenever Tom Cruise or
Risky Business
crops up, my toes still curl. It's an awful film by the way!
The

St Jude's

series often reminds me of a modern day

Mallory Towers

. Were you a fan of these books when you were younger?
Thank you! Lots of people have very fond memories of
Mallory Towers
. Funnily enough, I didn't read the series when I was young, but I was a huge
Famous Five
fan. I found six well-read
Chalet School
books lurking in my old bedroom, but I can hardly remember anything about them, except that everyone had to speak French on certain days of the week!
Did you base any of the

St Jude's

characters on yourself?
I think all the girls have some of my traits. I was very swotty like Min; grew up in the countryside with parents swinging from one money worry to the next, like Niff; I had a brilliant boyfriend, like Gina, and I currently live in Glasgow, like Amy! When you're breathing life into characters, you can't help but draw on your own experiences.
Do you have a preference when it comes to writing for adults or teenagers?
Oooooh. Good question! To be honest, I really enjoy all my writing. Switching between the two audiences and the two styles keeps life very interesting for me.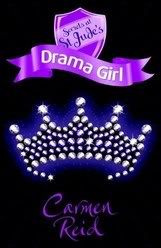 Can you tell us anything about book four,

Rebel Girl

?
The two big storylines for
Rebel Girl
concern Dermot and Gina (will they or won't they break up? Ouch!) and Amy and her Dad. Niffy's going to have a terrible, soul-destroying haircut (I've been there!) and Min... wait a minute! I've already given away more than I meant to. You'll have to wait till July to find out more!
If the

St Jude's

series was ever made into a film, which actors would you like to see bring your characters to life?
Now this question is just impossible! If
St Jude's
is ever made into a film, I will be too busy dancing on the rooftops to worry too much about who is going to land the parts. It would probably be best for some young, unknown people to step in and shine. Years ago, I remember watching
Bend It Like Beckham
and thinking 'wow, those two girls are so fantastic, they are going to be really famous.' And yes, Keira Knightley and Parminder Nagra are now mega-stars!
----------
Related links: