Justin Somper is the hugely popular author of the
Vampirates
series. His fifth book,
Empire of Night
, is now available in the UK, and is published by Simon & Schuster. A big thanks to Justin for taking the time to answer all my questions!
----------
Mixing vampires and pirates is such an unusual premise, and isn't something I've encountered before. What was your inspiration for this unlikely pairing?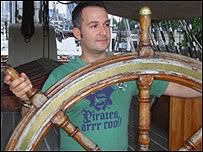 It all began with the word VAMPIRATES literally dropping into my head one day. A veritable "Eureka!" moment. I had shivers up my spine as I knew that, in many ways, this was "the big idea" I'd been waiting for as a writer. It was also quite scary though because I knew very little about vampires and absolute zilch about pirates and I knew I'd have to get up to speed on both to find out the right way to blend them together. It was intimidating, but exhilarating, dealing with these challenges as a fairly new author.
Why did you choose to set the story in the future?
For several reasons. One was that I thought that I could make a subtle point about global warming and sea-level rise and that this would provide a certain logic to a new dawn of piracy. Another was to enable me to have strong female protagonists on the pirate side of the story (there aren't too many famous female pirates in history). I also wanted to confound expectation and I guess everyone would expect a story like this to be set in the past. Finally, I guess I thought it would give me an element of control over the world - rather than feeling that I had to tie it into a specific historic era. In the latter case, that was possibly evidence of my inexperience as a writer. Creating this new world was one of the more challenging aspects of the sequence; although now it is up and running, I'm very comfortable with it.
In some ancient lore, vampires can't cross natural running water. Did you always intend to create your own contemporary mythology?
I think that the wealth and diversity of vampire myths encourages, indeed compels, you to take the elements that call to you and weave them into something fresh. Remember too, that as I say I didn't come at this idea from being a complete vampire afficionado. I did spend a good amount of time ahead of the first book sifting through various myths and working out which I wanted to play more strongly on than others. I think a very key element of
VAMPIRATES
is that it is often unclear who are the "goodies" and who are the "baddies". I like this uncertainty. It's certainly not the case in my books that if you are a pirate, you are good and if you are a vampire, you're bad. It comes down to what you will do to satisfy your appetite (whether that appetite is for riches, fame, violence or blood itself) and I suppose how you treat those around you.
Do you have a favourite character from the

Vampirates

series?
I'm pretty fond of them all really. They're kind of like family to me now. For a long time, my favourite was Sidorio but I think he may just have been eclipsed by Lola because she is so wicked in such a delicious way. I'm also very keen on Johnny and Stukeley. I think Johnny has a hard time of it from fans because Lorcan is so popular with them - I'm on a mission to get them to like Johnny more. And I think Stukeley is a really intriguing character because he's crossed from the pirate side of the story to the Vampirate realm and has allegiances to characters on "both sides". He was originally supposed to come into the story, die in a duel and stay dead but he's definitely lasted the distance. Then again, as I've said before, you couldn't wish for a more trustworthy mate than Bart. This question is too hard. More importantly, I want to know who is YOUR favourite?
[Jenny: Lorcan, of course! :) ]
I love the sea shanty featured in

Demons of the Ocean

, and often find myself singing it. Was it easy to come up with?
Actually it was. Which is surprising as I am completely unmusical. The shanty really kind of wrote itself in my head while I was immersed in research about pirates and vampires. You may have noticed that there are some other songs and verses in the books. I'm particularly pleased with The Pirate's Prayer which first appears in
TIDE OF TERROR
- at Jez's funeral - and then again in
EMPIRE OF NIGHT
. I also like the Vampirate Incantation in the new book. I generally perform the shanty at events (and indeed on my website) but, contrary to rumours, I NEVER sing it. So i'd like to know what tune you've set it to.
Do you have to a lot of research in order to write a

Vampirates

book, or do you use your own existing knowledge?
I do a steady stream of research. In the early days, it was about getting the big picture stuff right, setting up the architecture of the story and these futuristic (but rather post-apocalyptic) worlds of pirates and Vampirates. That research also helped to shape some of the key characters. For instance, I found out that Julius Caesar was once kidnapped by pirates but escaped and had his captors killed. I plundered this for Sidorio's "origin" story. Similarly, I found out about a Chinese pirate called Cheng I Sao and borrowed some elements of her for Cheng Li. When I came to create Johnny, I initially had in mind a stereotypical blonde-haired, blue-eyed cowboy but my research into cowboys drew me to change him into a vacquero. This, I think, has made him a far more interesting character and much more likely to intrigue Grace who, like me - like all of us I suspect - is intrigued by outsider figures. Aside from developing characters, I generally have Wikipedia on the go, whether I'm researching unusual weaponry, palomino horses, famous chefs or painters - all of which feature in the new book.
Thanks to two very feisty characters, the series appeals to both boys and girls of all ages. Have you had a positive reaction from female readers?
Absolutely and I'm delighted about that. I completely set out to do the girls, as well as the boys, justice. I haven't set out consciously to create role-models but I'm satisfied that it isn't just Grace but Jasmine, Bo Yin, Cate, Cheng Li, Sugar Pie, Trofie, Lola and many others who demonstrate girl-power in the books. I'm also really pleased that the preponderence of strong female characters hasn't proved a turn-off for boy readers. My mail suggests that there's a pretty even split amongst my readers.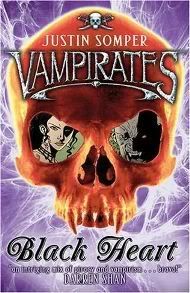 Do you have any say in your US/UK cover designs, and do you have a personal preference?
Honest answer is that I have very minimal say and so I tend to just let the publishers get on with it and do what they feel is right for the books in their market. That said, the
VAMPIRATES
books are published in 34 countries and 24 languages and there are only one or two jackets I'm not keen on. Right now, my favourite three jackets are the UK and US editions of
EMPIRE OF NIGHT
and the Japanese edition of
BLOOD CAPTAIN
Volume One. This one has Trofie Wrathe's golden hand emblazoned on it and reminds me of a retro James Bond jacket. It rocks. I think both the UK and US covers for
EMPIRE OF NIGHT
are suitably dark and brooding which is in complete sympathy with the story inside.
Which books did you like to read as a child?
A very wide range of books including classics like
THE SECRET GARDEN
(you may have noticed it pops up in
BLOOD CAPTAIN
), anything by Roald Dahl but especially
CHARLIE AND THE CHOCOLATE FACTORY
, the
NARNIA
stories, lashings of Enid Blyton (my fave is called
THE BOY NEXT DOOR
) and
THE HARDY BOYS
mysteries. Also a very funny series of books by Helen Cresswell called
THE BAGTHORPES SAGA
. This deserves a renaissance.
Can you tell us anything about book #6, and what's in store for Grace and Connor?
I can't tell you very much, I'm afraid as I'm really conscious of not spoiling readers' enjoyment before they finish
EMPIRE OF NIGHT
. I'm currently quite far on in the plotting process and, behind me, my office floor is knee deep in graph paper and coloured post-its as I'm working on my chapter grids. I have tried to make each book in the sequence more exciting and tightly plotted than the one before. So far, I think I've succeeded. Book 6 is going to be a really important one for me as it will tie up a lot of loose ends in the story. It's a bit scary but I have a good feeling about it.
If you could sail the seas with one fictional vampire and one pirate from any form of media, who would you choose and why?
Clearly, I have to stay loyal to my own characters so I'm going to choose Cheng Li as the pirate (not least because I really like her state-of-the-art ship, The Tiger). And, for vampires, I'm going to choose Sidorio. I have a sneaking feeling he and I would get on very well.
----------
Related links: