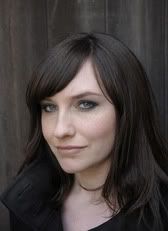 Michelle Harrison is the author of
The Thirteen Treasures
and
The Thirteen Curses
-- must-reads for fans of faerie stories!
----------

How did you end up with a publishing deal with one of the UK's best children's publishing houses?
I'd say it was a combination of perseverance and luck. It took three years to find an agent who wanted to take the book on for me. It was then submitted to eleven UK children's publishers. Out of those eleven, three wanted to meet me. I met with Simon & Schuster on the 13th (I think some luck was involved there!) and they said they intended to make an offer for
The Thirteen Treasures
and a sequel. I instantly knew I wanted to publish the books with them as I felt they'd really 'got' it, and I knew from their list that they publish fairy books brilliantly.
Has your previous work as a bookseller had a positive impact on your writing career?
Definitely. Working as a bookseller gave me a really valuable overview of the children's/YA market while I was writing. I could see what was available and what was popular, with both children and the adults buying for them. It also showed me what a difference it can make to a book if booksellers are behind it, creating a buzz.
The Thirteen Treasures

won the Waterstone's Children's Book Prize 2009. Did this change things for you, either in your personal or working life?
There were changes the award brought about in both. Personally, it gave me more confidence as a writer to know that my book had actually won a prize. It was such a boost to know that the prize was chosen by booksellers as well. In my working life (as an editorial assistant in children's publishing) it also made an impact. At the time I was a new and relatively unknown employee. Then suddenly, everyone in the division seemed to know who I was. I was even getting congratulatory emails from people from other divisions, including overseas, who had heard about it.
Do you have a favourite fairy or creature from your books?
I think my favourite fairy has to be the drain-dweller. For some reason I really enjoyed writing about its smelliness and thieving ways!
Along with writing, you also illustrate the chapter heads yourself. Is illustration another career option?
It's something I'd like to continue working on, although I tend to prefer illustrating my own work. I've had a couple of illustration commissions, but at the moment my focus is on my books because of the time involved. When
The Thirteen Treasures
was on submission, one of the publishers that rejected it commented that they really liked the chapter illustrations and asked if I had a portfolio to view, so I think it could be an option at some point.
The Thirteen Treasures

and

The Thirteen Curses

are two of the most magical books I've ever read. Have you always had a keen interest in the fey?
Thank you. I was quite interested in fairies and fey creatures as a child. I remember a story my older sister told me about a fairy that had been killed by a witch and buried in our back garden. Being the kind of child that needed evidence, I went and dug in the garden. Never did find anything but I never forgot the story! I became more strongly interested in real, proper faeries (the kind that usually come with an 'a') when my tutor introduced me to the work of artists such as Brian Froud, Arthur Rackham and Alan Lee when I did my illustration degree. It completely changed my perception of fairies and got me interested in the darker side of things. After that, I was hooked.
What is your opinion on your book covers, both UK and US?
I think they're both fantastic, and count myself extremely lucky. The UK cover by Chris Gibbs makes for quite an intriguing and arresting image. I think it's more likely to have boy appeal than the US cover. But the US cover I find really magical, and it's much closer to how I always imagined it to look when I was writing the book.
Have you ever considered writing an illustrated companion to the series?
I would love to do something like that! It would be a dream project, and a brilliant way round off the series.
What's next for Tanya, Red and the fairies of Tickey End?
Their fate is being determined right now in
The Thirteen Wards
, currently planned to be the last in the series. One of the themes in the first two books is how past events affect the present, and so this book is to be no exception. Red is trying to put her baby-stealing past behind her, but finds it's more complicated than she hoped. Tanya is intent on finding out why Red is being so cagey and secretive. When she does, it propels them both into another adventure, along with Fabian, of course!
Are there any other teen books or authors you'd highly recommend?
Lots! Kate Cann, Anne Cassidy, Marcus Sedgwick and Sarah Singleton are all part of my staple book diet. I think they're all amazing writers. Julie Hearn is another – her book
The Merrybegot
is an all-time favourite, a book that I recommend to everyone. More recently I really enjoyed
Numbers
by Rachel Ward, and have its sequel on order. I could probably go on all day but I'll stop there!
----------
Related links: