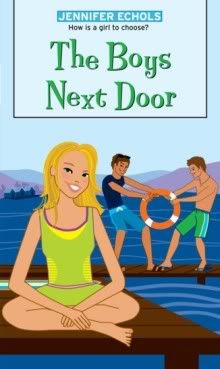 Publisher:
Simon Pulse
Format:
Paperback
Released:
June 26th, 2007
Grade rating:
A
Amazon summary:
Lori lives for summertime on the lake. She spends all season wakeboarding, swimming, and hanging with her friends -- including the two hotties in the house next door. With the Vader brothers, Lori's always been one of the guys. But while Lori and the "baby" brother, Adam, are inseparable friends, she can't deny a secret crush on Sean, the older Vader boy. This year Sean's been paying Lori a lot of attention, and not in a brotherly way. But just as Lori decides to prove to Sean she's girlfriend material, she realizes that her role as girl friend to Adam may be even more important. And by trying so hard for the perfect summer romance, she could be going way overboard...
Review:
The Boys Next Door
should come complete with a 'CAUTION: THIS BOOK IS HOT' warning strapped across the cover. At least then we'd know what we were in for, and wouldn't be at all surprised when extreme melting/swooning/drooling became part of the reading experience.
Jenn Echols seriously has a way with words, not to mention hotter than hot boys and teenage girls with their heads firmly screwed on. She has the rare talent of sucking you into a story, making you wish you were living it yourself, and then making you pray to the book gods that the sequel will land in your hands, like, NOW.
Although
The Boys Next Door
is packed with swoon-worthy guys, the boy I fell head over heels for is Adam, a 16-year-old wakeboarding fiend with a golden tan and ripped biceps with the power to make you forget your own name. Never was a boy so perfect and, unfortunately, so fictional. I may have to set up a support group just to get myself over this little fact, and I'm sure I wouldn't be sat there wallowing all on my lonesome (come join me, fellow Adam-aholics!).
The boys aren't all this book has going for it. It has a ridiculously likeable main character in the form of Lori, the lucky girl who lives next door to the glorious Vader brothers, and has the fun task of working with them at Vader Marina during the summer. She's snarky and fun, and is so realistic she practically jumps off the page. She's exactly the kind of person I'd like to have as a friend, and not just because of our shared tomboy gene.
To sum it up,
The Boys Next Door
is an absolute must-read for fans of YA, romance or just a downright addictive story. I'm already counting down the days until I can read the sequel,
Endless Summer
, and I'm glad that May 25th is fast approaching. Now, if only I had a handy time machine...