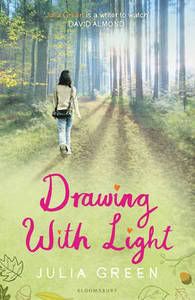 Publisher:
Bloomsbury
Format:
Paperback
Released:
March 1st, 2010
Grade rating:
A
Amazon summary:
Kat and Emily have grown up without their mother for almost as long as they can remember. And now Dad is with Cassy and they all muddle along together well enough - even though they are living in a cramped caravan while their new house is being renovated. Then Cassy and Dad tell them that Cassy is pregnant, and everything seems to shift. Emily feels a new urge to find her own mother. How could she have left them the way she did? Never writing to them? Not communicating with them? And as Emily begins her search, not knowing what she will find, she is at the same time embarking on a new relationship of her own, that of her romance with Seb.
Review:
Drawing with Light
is a beautifully written story about a girl, a family and a first love. It's poignant and thought-provoking, and instantly captured my full attention.
Emily is still struggling to come to terms with the realisation that her mother left her, never once contacting her or visiting. Her dad and sister have seemingly moved on, and Emily faces change in every direction. Meeting local boy Seb is a turning point for her, and gives her the strength to make some important decisions for herself, ones that will change her life completely.
Green writes these characters as if she's writing a biography of her own family. Nothing seems too far-fetched, and she draws on emotions so deep I often wondered if she was writing from experience. By the end of the book, I really felt like I knew Emily and sister, Kat, inside out, and I didn't want to turn the final page. I do have one niggle though, and that's how quickly Emily and Seb's relationship progresses to love. I know it can happen in less than a year, but I would have preferred it to take longer for those three little words to come into the picture.
Green continues to remind me of Sarah Dessen which, to me, is the highest compliment I can think of. Her characters are layered, her stories are realistic, and she always leaves me with a feel-good feeling. I didn't think she could top her last novel,
Breathing Underwater
, but she has. I for one can't wait to see what she writes next!