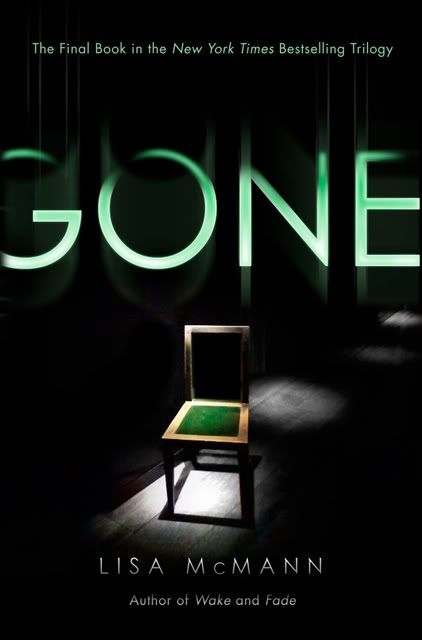 Publisher:
Simon Pulse
Format:
Hardcover
Released:
February 9th, 2010
Grade rating:
C+
Amazon summary:
Janie thought she knew what her future held. And she thought she'd made her peace with it. But she can't handle dragging Cabel down with her. She knows he will stay with her, despite what she sees in his dreams. He's amazing. And she's a train wreck. Janie sees only one way to give him the life he deserves: She has to disappear. And it's going to kill them both. Then a stranger enters her life — and everything unravels. The future Janie once faced now has an ominous twist, and her choices are more dire than she'd ever thought possible. She alone must decide between the lesser of two evils. And time is running out...
Review:
I can't lie: I was pretty disappointed with this book. I was expecting an amazing conclusion, with a nail-biting outcome. I thought it was the only way things for Janie could end, given her declining health revelations in
Fade
. Instead, I was left feeling flat, and thinking "Is that it?". It seems
Gone
suffered from final-book-in-a-trilogy pressure, which was a shame, because the first two books were fantastic.
Janie really annoyed me this time around, with her constant moping and deep attachment to a guy she barely even knew. Everything is slotted together a little too conveniently -- not to mention quickly -- and though it was mostly plausible, it was just too easy. Cabel was almost reduced to a useless boyfriend role in the latter half of the book, with Janie doing everything she could to shut him out. When their relationship was so strong in previous books, I expected more from him in
Gone
. In order for Janie's end decision to have an effect on me, I needed to see the old Janie and Cabel, and I never felt that I did; they were like different people.
It was good to see Martha Stubin appear again, albeit briefly and, as always, Janie's dream sequences were gripping and horrifying. As a series end it could have been so much better, and I'm sorry to have to say that, as I really do love this series. Maybe my expectations were too high... I don't know. In any case,
Wake
and
Fade
are absolute must-reads, and I wouldn't hesitate to recommend them.