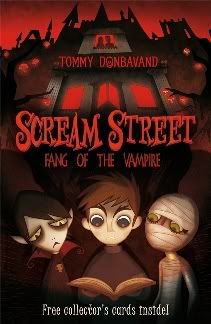 Publisher:
Walker
Format:
Paperback
Released:
October 2008
Grade rating:
Fang of the Vampire
:
A
Blood of the Witch
:
B+
Heart of the Mummy
:
B
Amazon summary:
In Scream Street, Luke and his parents discover a nightmarish world of the undead. Luke soon makes friends with vampire Resus Negative and mummy Cleo Farr, but he remains determined to take his terrified parents home. After liberating the powerful book Tales of Scream Street from his new landlord, Otto Sneer, Luke learns that the founding fathers of the community each left behind a powerful relic. Collecting together all six is his only hope of opening a doorway out of the street, so with the help of Resus and Cleo he sets out to find the first one, the vampire's fang. But with Otto Sneer determined to thwart him at every turn, will Luke even get past the first hurdle alive?
Review: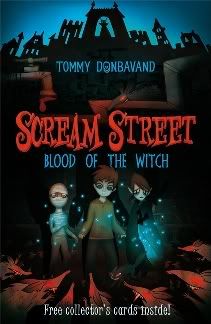 I know for sure that I would have loved this series when I was a 10-year-old, what with my
Buffy
obsession looming around the corner, and my interest in all things supernatural just about to manifest itself. The
Scream Street
series would have had premanent residence on my bookshelf, next to my much-loved
Goosebumps
collection. I'm glad that, even though I'm now 22, I can still enjoy these books, and appreciate them for the excellent, fun storytelling that they are.
Fang of the Vampire
is a brilliant introduction to Scream Street, with murder, mystery and mayhem all par for the course on this unusually shaped street. Main character Luke is introduced, who just happens to be a werewolf, along with his new friends Resus Negative the vampire (I want to adopt him) and Cleo the mummy. If the name Resus Negative doesn't make you want to read this book, then I don't know what will -- has there ever been a more aptly named vampire?!
The plot moves at a super fast speed, with our heroines encountering goblins, ancient vampires and shapeshifters along the way. Luke's quest to collect all six ancient relics begins with a mad dash to find a vampire fang, and he's helped by zombies, skeletal teachers and talking books. Everyone on the street chips in, and things look good so far...
In
Blood of the Witch
, Scream Street is taken over by a pack of vampire rats, who are determind to infect everyone and everything they can. The gang quickly find themselves on the case, and meet powerful witches, weirdly dressed fairies and vampires mixed with every lifeform you can imagine. I never realised how deadly a zombie vampire could be, but I do now!
Things are almost back to normal in
Heart of the Mummy
, though once again Luke, Resus and Cleo end up in more otherworldly trouble in the form of killer spiders. A prophetic dream, ugly bog monsters and a limelight-hogging mummy jump in to help save the day, and together the residents of Scream Street uncover secrets, lies and a way to get rid of the perpetual darkness.
Scream Street
is laugh-out-loud funny, with fantastic characters and amazing cartoon style illustrations. Lily Bernard of Cartoon Saloon provides the art work, and brings Scream Street to life. She has captured each character perfectly and, coupled with Donbavand's text, each book makes for one fun read. I wouldn't hesitate to recommend these to children, and I can't wait to read the rest of the series!