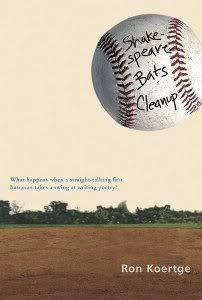 Publisher:
Candlewick
Format:
Paperback
Released:
February 14th, 2006
Grade rating:
B
Amazon summary:
MVP Kevin Boland gets the news that he has mono and won't be seeing a baseball field for a while, and he suddenly finds himself scrawling a poem down the middle of a page in his journal. To get some help, he cops a poetry book from his dad's den. Before Kevin knows it, he's writing in verse about stuff like, Will his jock friends give up on him? What's the deal with girlfriends? Surprisingly enough, after his health improves, he keeps on writing - about the smart-talking Latina girl who thinks poets are cool, even about his mother, whose death is a still-tender loss for which he finally finds the words.
Review:
Shakespeare Bats Cleanup
is a short novel written entirely in verse, with a likeable male narrator and a simple but effective premise. Koertge writes in all sorts of poetic verse, including haiku, sonnets, and pantoum. Before reading this book I had no idea what a pantoum was, but all was cleverly explained by main character Kevin Boland.
Koertge's writing is highly compelling, and tackles male adolescence from a different angle. Kevin is a down to earth guy, with all the usual worries of a teenage boy. Add to that a horrible bout of mono, and things really aren't going very well for him. His newfound interest in poetry is a great way to incorporate verse into the story, and his thoughts on young love and the death of his mother are poignant and touching.
At a first glance,
Shakespeare Bats Cleanup
looks like it's all about baseball. The sport is featured, but a knowledge of the game isn't necessary in order to enjoy the story. I only know what American TV shows have taught me, and I think I did okay!
I really enjoyed this book, and I'll definitely be reading more by Ron Koertge in the future. It's one of the better verse novels I've read recently, and while I would have liked to see more pages and more chance to get to know everyone, I can't fault the layout and style. If you're a fan of poetry or verse, definitely pick this one up.