Rachel Hawkins is the very cool debut author of
Hex Hall
, which was released in the UK yesterday, and the US last month. Thanks for answering my random questions, Rachel!
----------
Can you tell us a bit about your road to publication?
Sure! It's a little insane, haha! I was teaching high school English, and had one of those "What the hell am I doing" epiphanies. I LOVED my kids, but didn't love my school so much. So I quit in the middle of the year, and decided to write a book! I wrote
HEX HALL
from October 2007 to February 2008, and was lucky enough to get my Uber Agent of Awesome, Holly Root, a few weeks after finishing the book. Then it sold in April! So all in all, a very quick trip to publication (and I'm always quick to say that I knew NO ONE in publishing when I started out!)
What were the main influences behind

Hex Hall

?
I've always loved stories set in big, creepy houses (Gothic FTW!), so that was a big part of why I wrote
HEX HALL
. I was also a big fan of
Buffy the Vampire Slayer
, and the way it blended angst, humor, and horror, and I've read just about everything Anne Rice ever wrote. All of those things basically combined in the blender of my brain, and BAM!
HEX HALL
was born!
The characters in

Hex Hall

all have rich histories and ancient ties to the supernatural world. How long did it take you to create your mythology, and was a lot of research involved?
I have quite the collection of books about the supernatural, so in a way, I've been researching this book my whole life, haha! But I tend to research as needed rather than do a huge amount beforehand. Some of the mythology, like the origin of Prodigium, was just stuff that came to me. I'm a big fan of the "Hey, that sounds AWESOME! Let's do THAT!" form of world-building!
So, Archer is a super smooth, totally hot warlock who can raise one eyebrow. Do you think that's a necessary trait for all bad boys to possess?
Absolutely! If he can't, he needs to AT LEAST have a good smirk. (Also, I should add that like Sophie, I can't do that AT ALL, and just end up raising both eyebrows.)
Hex Hall

is exactly how I imagine an English boarding school to be (I've never seen one, even though I live here), minus all the witches running around. Have you ever visited the UK, or would you like to?
I have visited the UK! I spent a week in London back in 2001, and absolutely fell in love! I've always been a bit of an Anglophile, but that really cemented it for me. Although I DO have to admit that I had a pretty limited exposure to the city, and was there at Christmas when everything felt all "
Love, Actually
," so my view it may be a little romanticized. :) I'd love to come back and go a little further afield...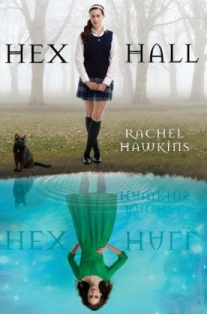 If you could be any type of Prodigium, what would you be and why?
Easy! Witch. No unfortunate hair issues like werewolves, no limitations like vampires, no strict court like the faeries...
If you were stuck in

Hex Hall

, with only three YA books to read, which would you choose?
Elizabeth Marie Pope's
THE PERILOUS GARD
, which is my All-Time Fave YA, Libba Bray's
A GREAT AND TERRIBLE BEAUTY
, because it is so very awesome, and any of the Georgia Nicholson books so that I could laugh!
What's been the most fun part of your writing career so far?
I get THE COOLEST emails from readers. I mean, just the sweetest, most lovely little notes that completely make my day.
Is there anything you can tell us about the sequel? Anything at all? We're all dying here...
Hmmm...well, Book 2 is set almost entirely in the UK, which was very fun to write! Sophie, Jenna, and a few surprise guests end up there for the summer. Sophie will be dealing with the fall out from Book 1, but new complications spring up, too. And that's all I can say for now! ;-)
----------
Related links: