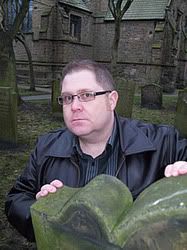 Scream Street
is a fantastic horror series for children, written by the very funny Tommy Donbavand. If you haven't yet read any of his hilarious dialogue, you're missing out!
----------
What initially made you want to pick up a pen and write these stories?
I visit a lot of schools to both run creative writing workshops, and run my anarchic Vampires vs Werewolves Game Show - and wherever I go, pupils are always interested in spooky haunted house stories. Driving home after one such school event in October 2006, I began to think about how I could write a haunted house story of my own - but knew it had to be something different. I wondered what would happen if there were two haunted houses, side by side (I'd never seen that before) or - even better - a WHOLE STREET of haunted houses! The name SCREAM STREET popped into my head, and I started writing as soon as I got home.
Have you always been a fan of the horror genre? If yes, how has this influenced your writing?
I've always been a fan of horror books (although not necessarily horror movies - I prefer to 'direct' the action myself in my head!) The problem was, when I was growing up, there was no such thing as children's horror - and so I ended up reading stuff that was far too old for me: books by Stephen King and James Herbert among others. When I began writing my own stories, I found that I naturally veered towards the macabre - with a few laughs thrown in, of course.
Resus Negative is my absolute favourite little vampire - I love him. Do you have a favourite

Scream Street

character?
My favourite character is Doug the zombie. Like most zombies, he likes eating brains - but Doug is a bit of a party animal, and prefers to have his grey matter barbecued, with a few bottles of beer on the side. There are actually three resident zombies in Scream Street - although Turf and Berry rarely get a look-in as Doug's more fun to write for!
Which book has been the most fun to write so far?
Book 4 -
Flesh of the Zombie
- has been the most fun so far as it involves the world's greatest zombie rock festival, Deadstock! The idea came from my older son, Arran, who - when I asked what type of character he wanted to be in Scream Street - replied that he'd like to be a zombie rock drummer. Well, a zombie rock drummer needs a zombie rock band (Brain Drain) and a zombie rock band needs a zombie rock festival! The drummer - Twonk - makes a welcome return in
Scream Street 11: Hunger of the Yeti
...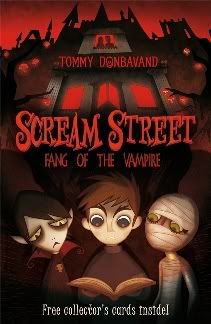 Although the series is aimed at the 9-12 age group, do you find that you've got an older readership too?
I do have an older readership - including one or two adult fans! One of these is a greatly tattooed music producer called Spider (no, really!). In fact, Spider has been so enthusiastic about the series that I've turned him into a character in
Scream Street 9: Terror of the Nightwatchman
(he's an ogre with rather unusual shapeshifting powers). Spider plans to get a new tattoo featuring the illustration of his character when the book comes out this Halloween!
Would you ever consider writing

Scream Street

books for a teenage audience?
There are moments where I'm tempted to go darker with the
Scream Street
stories (my editor had to reign in the scares in book 9 in particular!) but I'm always aware that what I'm giving my readers is an introduction to the horror genre. Although I grew up reading
The Rats
and
Carrie
, I wouldn't recommend that for other 10 year olds! In fact, one of the comments I made to top teen horror author Darren Shan a while back is that I'll set them up as horror fans, then hand them over to him! Two other fantastic teen horror authors are Sam Enthoven (
The Black Tattoo
and the brilliant new
Crawlers
) and Barry Hutchison (the terrifying
Invisible Fiends
series). They're so good at what they do, I'm happy to concentrate on the younger end of the readership.
Can you tell us where the series is going from book #8 onwards?
After six books collecting relics in order to open a doorway back home, Luke's quest goes horribly wrong. Doorways, of course, work in both directions and - in
Scream Street 7: Invasion of the Normals
- the community's landlord, Sir Otto Sneer, begins to charge people from our world to come and visit what he terms 'the greatest freak show on Earth'. This is making life very miserable for Scream Street's residents - and Luke, Resus and Cleo feel responsible. So, they must now track down the six founding fathers - wherever they are in the world - and find a way to return the relics in order to close the doorway and save their friends and neighbours. It's a little bit cruel of me to treat the three main characters like this - but I loved the idea of everything backfiring so much, I couldn't resist!
The artwork in the

Scream Street

books is fantastic. Can you tell us a bit about the process of matching the images and your text?
I'm so proud of the artwork in the Scream Street books! Lily Bernard of illustration company Cartoon Saloon does a fantastic job of bringing my words to life - in fact, the illustrations are often SO good that, if they don't match what's happening in the story exactly, I'll tweak the text to fit the picture! In addition to Lily's work, Patrick - the designer at Walker Books - makes sure that all the inside pages look worn and are covered in blood spots or spiders' webs. This really appeals to reluctant readers especially, who are often put off from picking up a book by the stark black text against a white background. Each book also features four collector's cards in the back with colour illustrations and stats about the characters and relics. My readers go CRAZY for these!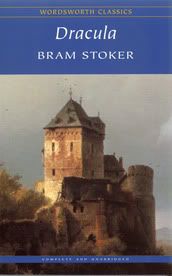 If you could spend a day with three fictional horror characters, who would you choose and why?
Ooh... that's a tough one. I'm a HUGE fan of Bram Stoker's
Dracula
- but don't know if I'd rather spend time with the count himself, or be part of Van Helsing's hunt - maybe a day with each in order to experience the adventure from both sides? Other than that, there's the dog in James Herbert's
Fluke
- a book that's always stayed with me. Imagine being reincarnated as an animal, but still retaining your human memories! That would be terrifying, but incredible!
What's next for you after you say goodbye to the inhabitants of Scream Street?
I'm currently working on
Scream Street 11: Hunger of the Yeti
, after which there are just two books to go. I DO know what's coming next (my agent has just done the deal with Walker Books), but I can't say too much at this point - except that it will be aimed at the same readership, will be comedy horror again and (I hope you're pleased to hear) will have a vampire as the main character!
(Jenny: I'm VERY pleased to hear that. The more vampires the better!)
----------
Related links: