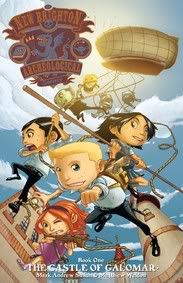 Publisher:
Image Comics
Format:
Paperback
Released:
March 4th, 2010
Grade rating:
B
Amazon summary:
Out of the ashes of misfortune will rise the next generation of great adventurers! After their parents are lost on an archeological expedition, four children begin to unlock the secrets of their parents' mysterious lives, discovering a hidden world of mystical artifacts, mythical creatures, and arcane knowledge. Soon they find themselves drawn into a conflict over a great library that has kept two kingdoms at war for centuries, the children must save an enchanted forest, the birthplace of magic itself. Join us as these children become the latest members of the fabled New Brighton Archeological Society, and take their first steps towards their true destiny!
Review:
I really enjoyed
The Castle of Galomar
. It's a fun addition to children's graphic novels, and is a quick, easy read for all ages.
Our four young heroines, Joss, Cooper, Becca and Benny, are part of the New Brighton Archeological Society, a society intent on continuing the work their parents left unfinished. On their travels in the woods, they meet Mitch the goblin: butterscotch addict and owner of humongous cat Moloch. Together they set off to Galomar's castle, to stop him from stealing important library books and creating a war.
All sorts of creatures feature in this story, including goblins, faeries, Kappas (massive warrior frogs), and Neal the little yellow slug. The second half of the book is non-stop action, as faerie/goblin battles ensue and the path to Galomar's castle becomes more dangerous.
The writing is humorous and easy to follow, and includes an interesting explanation for the creation of magic and magical beings. At times, I thought the children spoke as if they were from an older time, and it didn't quite fit with their younger ages. I also expected them to be a bit more fearful of what they were getting into, but they never really gave it a second thought. Weldon's artwork is very cool, and a little simpler than what I'm used to when it comes to graphic novels. It works so well though, and I loved matching the words with the images. I especially liked the faeries and Neal the slug -- he's so cute!
Overall,
The Castle of Galomar
is an entertaining story that I'm sure will appeal to anyone looking for a speedy but charming read. I'm looking forward to finding out what happens next!