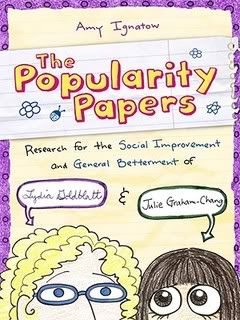 Publisher:
Abrams
Format:
Hardcover
Released:
April 2010
Grade rating:
B+
Amazon summary:
This scrapbook-style novel charts the friendship of Lydia Goldblatt and Julie Graham-Chang as they embark on a quest to study the behaviors and tastes of the popular girls so they can join their ranks in middle school. When Lydia starts to become friends with the popular girls she's forced to choose between them and Julie - and the Popularity Papers figures in the center of an epic middle school power struggle.
Review:
I've recently read a few books in a similar style to
The Popularity Papers
, and I have to say that this one is my favourite. It wasn't quite as funny as I hoped it would be, but I absolutely loved the layout and overall presentation.
Journal-style books are so easy to read, and this was no exception. Its charming simplicity was a nice change from convoluted plot threads and mediocre characters, and it was exactly what I needed after reading a couple of slow burning books. Ignatow's depiction of two fifth graders (which I'm told is ages 10/11) was spot-on, and it was fun to go back to a time when popularity and social status was the most important part of school.
Although the plot itself wasn't the best or most original, I thoroughly enjoyed its execution. Lydia and Julie both contributed to the book, with different handwriting used to differentiate between the two. Julie also added lots of cool drawings and diagrams to illustrate the text, and it all made for a visually appealing read.
I have no doubt that fifth graders will love this, though I wouldn't just restrict it to that particular age group. I think anyone would be able to appreciate Ignatow's unusual debut, as there's so much on offer, including amusing characters, imaginitive artwork and a heartwarming message or two. I can't wait to see what she comes up with next!