Publisher:
Walker
Format:
Paperback
Released:
2008/2009
Grade rating:
Flesh of the Zombie
:
A
-
Skull of the Skeleton
:
B-
Claw of the Werewolf
:
B/B+
Amazon summary:
In Scream Street, Luke and his parents discover a nightmarish world of the undead. Luke soon makes friends with vampire Resus Negative and mummy Cleo Farr, but he remains determined to take his terrified parents home. After liberating the powerful book Tales of Scream Street from his new landlord, Otto Sneer, Luke learns that the founding fathers of the community each left behind a powerful relic. Collecting together all six is his only hope of opening a doorway out of the street, so with the help of Resus and Cleo he sets out to find the first one, the vampire's fang. But with Otto Sneer determined to thwart him at every turn, will Luke even get past the first hurdle alive?
Review: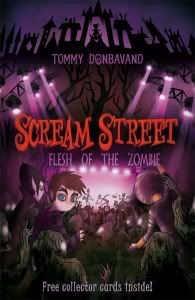 Flesh of the Zombie
is a fantastically funny chapter in the Scream Street series, and takes place at a zombie rock concert called Deadstock. It's full of zombie puns (a band member called Vein, a song called 'Zombie Feasting Time') that had me laughing out loud, and once again features my favourite brain-muncher Doug.
Lots happens in book 4, including the Deadstock festival, the introduction of Hex Hatches (portal type things) and a trip to the Underlands, which is where G.H.O.U.L. sends nasty lifeforms. I loved getting a glimpse at the Underlands, and it just goes to show that although these books are fairly short, there's a lot going on within the story.
Flesh of the Zombie
is my favourite
Scream Street
book after
Fang of the Vampire
. I thoroughly enjoyed every page, and that's mostly down to the brilliant plot and hilarious dialogue. Who knew zombies could be so much fun?!
-----
In
Skull of the Skeleton
, Scream Street meets a new tenant: the Headless Horseman. They also have to deal with an unexpected visit from a member of the Sneer family, a dangerous Frankenstein-like demon, and the theft of the Horseman's head. It's all business as usual on Scream Street, and luckily Luke, Resus and Cleo are on the case.
I didn't think the plot of this book was as strong as previous installments, and it's probably my least favourite of the seven I've read so far. It didn't grab me as much as the others, and I don't think the general story allowed for as many laugh-out-loud moments as usual. I wasn't too fond of the Headless Horseman, though I did like new characters Femur the skeleton and Rocky the gargoyle. Although not the best visit to Scream Street,
Skull of the Skeleton
is still a fun read, and continues Luke's quest to find all six relics from the founding fathers.
-----
Book 6,
Claw of the Werewolf
, sees the end of Luke's quest to collect all six ancient relics and get the heck out of Scream Street. There are many twists and turns, and a few revelations that left me stunned (though I did guess one of them, for once! Go me!). It's not all plain sailing for our young heroines of Scream Street: there are tough decisions to make, and important people to rescue.
Claw of the Werewolf
wraps up the first six-book story arc, and makes way for a whole new plot in book 7 (
Invasion of the Normals
). Although the series so far has been a continuation, what I like about the books is that any one of them can be read as a standalone story. There's a recap included at the beginning of each book, and major plot threads are repeated within the first twenty pages or so. It makes it very easy to dip in and out of the series, which is perfect for younger readers who may just pick up a random copy at a school or library.
I love this series, and I think I'm a big kid at heart. It helps that it's set on a street filled with supernatural creatures, has fantastic artwork (by Lily Bernard of Cartoon Saloon) and features a little vampire called Resus Negative. There's nothing I like more than scary lifeforms doing good deeds, and that's why
Scream Street
has now become a rival for
Goosebumps
in the battle for my favourite children's horror series.