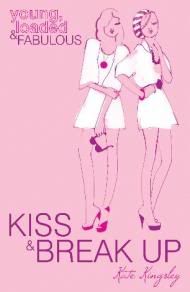 Publisher:
Headline
Format:
Paperback
Released:
April 1st, 2010
Grade rating:
B+
Amazon summary:
Half term may be over but the chaos has just begun. Mr Logan
has run off and eloped with
Miss Sharkreve leaving the Lower Sixth with a new housemistress - the tyrannical, catty Mrs Dicks. And with the rules getting tighter at St Cecilia's the students are getting way more creative in finding ways to break them - especially as they're all feeling a bit frisky. As tensions reach an explosive high, a pool party at Rando's country estate should be just the thing to cool everyone down. Or will it push the temperature up a notch?
Review:
Kiss & Break Up
is the third book in the
Young, Loaded & Fabulous
series, and I think it's the best so far. The back cover really isn't lying when it says temperatures will rise, and it's pretty clear from the first couple of chapters that this instalment is by far the most risqué.
Alice and Tally still rule St. Cecilia's girls boarding school, and in turn have all the richest, hottest London boys chasing after them. These boys don't come without their fair share of drama, though, and as always the girls are left to make the big decisions and deal with the fallout.
Kiss & Break Up
is full of sex, lies and revelations, and it makes for a cracking read. Think
Gossip
Girl
's wealthy Upper East Siders living in London, and you get the general gist of the plot: it's all about who rules, who's sleeping with who and who's sporting the latest designer labels. Sometimes I do feel that the plot moves a bit too slowly, but I think that's because it's very character driven, and takes its time getting to know everyone inside out.
I really enjoy this series, and I can't wait for the next book,
Too Cruel For School
. It's the perfect series for fans of
Gossip Girl
,
It Girl
and
Private
, and is chock-full of shocks and scandal. Love it!