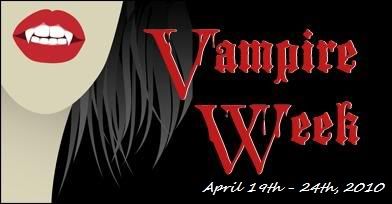 Publisher:
The House of Murky Depths
Format:
Paperback
Released:
September 12th, 2008
Grade rating:
A-
Summary from back cover:
He's looking for a girl; not just any girl, and dark-haired, brown-eyed Carolyn is the one. But does Gabriele Caccini, a student at Manchester University, really know what he wants? When a beautiful blonde comes into his life, he starts to question his motives and emotions; even a seventeenth-century vampire can do that. Alone in the modern world, Gabriele reflects on the origins of his immortality, and questions why it is he who should have the vampire gene, when over four hundred women have not survived his killing kiss...
Review:
I had never heard of this book before last week, and I honestly didn't know what I'd think of it. I agreed to review it because it's about vampires, and no matter how hard I try, I can never say no to that. As soon as I started reading it, I was hooked, and didn't put it down until I'd got to the end. I absolutely loved it! A bit more action in the occasional slow section would have made it even better, but it didn't really suffer because of its slower plot pace.
The thing that really stands out when reading
Killing Kiss
is Sam Stone's fantastic writing and thorough characterisation. I haven't seen writing this good for a while, and as for the characters, they're so deep and layered they could almost be real. I feel like I know Italian-born Gabriele inside out; it's like there isn't anything I'm missing, or any extra information that could help me understand him further. He's one of the most fascinating vampires I've ever read about, and that's partially because of the way Stone delves into his entire 400-year history. His entire life is explained in great detail, with the first person narrative allowing his thoughts and feelings to take centre stage.
One other aspect of
Killing Kiss
that I loved was the setting. It's set in Manchester, around the Deansgate area, which isn't too far from where I live. In fact, I was there a few days ago, though sadly I didn't meet any vampires! I've never read a vampire novel set this close to home, and it was great to recognise the places and landmarks mentioned.
The vampire mythology is slightly different to other books I've read, and I like that Stone put her own spin on things. Gabriele flies, he can camouflage himself, and turning someone into a vampire very rarely works. He feeds once a year to avoid detection and, unfortunately, has been without a mate for most of his life. His story focuses on how he survives by himself, and just how lonely an existence being a creature of the night can be.
Killing Kiss
is a brilliant, intricate story, with a loveable heroine and a fresh take on the vampire legend. I'm really glad it's the first in a trilogy, as that means I'll get to spend more time with Italy's finest!