Waiting on Wednesday idea from Jill at Breaking the Spine.
I've got two picks this week, because I just couldn't choose between these two!
-----
Now
by Morris Gleitzman
* Published by: Puffin (UK)
* Format: Paperback (UK)
* Release Date: May 6th
, 2010 (UK)
* On Amazon:

here



Amazon summary:
Morris Gleitzman's acclaimed story of friends Felix and Zelda in Nazi-occupied Poland has captured the hearts and minds of readers worldwide. In Now he delivers the final chapter, bringing this most moving of stories into the present day.
I absolutely love this series, and I can't wait to see how Gleitzman ends it in the present day.
Once
and
Then
are fantastic books, set in WWII and very highly recommended.
-----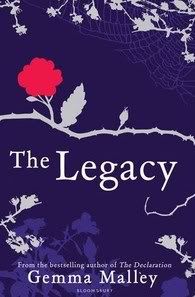 The Legacy
by Gemma Malley
* Published by: Bloomsbury (UK)
* Format: Hardcover (UK)
* Release Date: September 6th
, 2010 (UK)
* On Amazon:

here



Amazon summary:
When a Pincent Pharma lorry is ambushed by the Underground, its contents come as a huge surprise - not drugs, but corpses in a horrible state. It appears Longevity isn't working and the drugs promising eternal youth are failing to live up to their promises. A virus is sweeping the country, killing in its wake, and Longevity is powerless to fight it. When Richard Pincent of Pincent Pharma suggest that the Underground has released the virus, something has to be done to put the story straight and once and for all alert everyone to the truth.
This is the final book in another trilogy I love (other books
titled The Declaration
and
The Resistance
), which is UK dystopia at its best. I'm counting down the days until this one lands in my mailbox - I can't wait to find out what happens to Anna and Peter! Oh, and how lovely is the cover?!