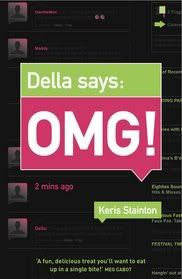 Publisher:
Orchard
Format:
Paperback
Released:
May 6th, 2010
Grade rating:
B
Amazon summary:
Della's over the moon when she kisses her long-standing crush at a party – but then she discovers her diary has disappeared... When scans of embarrassing pages are sent to her mobile and appear on Facebook, Della's distraught – how can she enjoy her first proper romance when someone, somewhere, knows all her deepest, darkest secrets?
Review:
Della Says: OMG!
is the debut novel from author Keris Stainton, and is a great addition to UK teen fiction. It focuses on Della, a likeable, realistic teenager whose personal diary is stolen from right under her nose. When excerpts from said diary start showing up on Facebook and other public places, she does what everyone in that situation would do: panics.
I enjoyed
Della Says: OMG!
, and I particularly liked the budding romance between Della and Dan. First relationships can be a scary thing, with so much to worry about, and so much that can go wrong. Stainton shows every side to teen life, and has perfectly captured the mindset of a teenage girl. Readers will realise they're not along when it comes to boyfriend anxiety, and that can only be a blessing in disguise.
I would have liked the book to be a little longer, and for there to be more emphasis on the missing diary. I felt like that plot got slightly overlooked, and I would have loved to see more embarrassing excerpts. I also thought Della figured out who the thief was too easily, though I understand why it played out that way.
Overall,
Della Says: OMG!
is a fun, light read with some serious stuff thrown in for good measure. Growing up is a hard time in anyone's life, and what makes this book so good is the realisation that Stainton still remembers what those rollercoaster teen years are like. I'm really looking forward to seeing what she comes up with next, and I think she's definitely a writer to watch!
-----
Keris Stainton's Top 5 Teen Heartthrobs
1. Alex P Keaton
Michael J Fox was one of my first loves. I fell much more in love with him in the film,
Back to the Future
(which I saw at the cinema twelve times), but I discovered him in TV show
Family Ties
. Alex was a dork (and a Republican so he really wouldn't appeal to me in real life, but I didn't know that when I was about 13) and I thought he was madly cute.
2. Brandon Walsh
I was obsessed with
Beverly Hills 90210
. Ob. Sessed. I could never quite choose between Brandon (played by Jason Priestly) and Dylan (Luke Perry). Brandon was friendly and funny, smart and conscientious. Dylan was dangerous and sexy. I wish I liked Dylan best, but I have to accept that Brandon is much more my type. Pah.
3. Seth Cohen
Well now it starts to get a bit embarrassing. I was a teen when I was in love with Alex Keaton and in my early 20s when I fell for Brandon Walsh, but I loved Seth Cohen from the very first episode of
The O.C.
when he was probably about 16 and I was 32. But he's so sweet! And funny! (Really funny.) He's a dork, of course, but in an oddly cool way.
4. George Michael Bluth
One of the reasons I was keen to watch
Arrested Development
was for Jason Bateman, who plays the lead character Michael Bluth, and who I loved back in the 80s (he took over from Michael J Fox in the
Teen Wolf
franchise, fact fans), but before long I was falling for his son, George Michael Bluth. This is even worse news than the Seth Cohen crush because George Michael is younger and I am older. But I can't help it. I love him. (I'm sure you know by now that he's sweet and a dork, right?)
5. Dan Humphrey
I resisted
Gossip Girl
for so long and then, when I finally gave in and watched it, fell in love with Dan Humphrey in moments. "Oh my god! Why didn't you tell me about Dan?!" I asked my friends. (On Twitter.) "Dan? Really?" they replied. He's a dork. He's funny. He's foxy. What's not to love? Seriously. (Goodness, I didn't realise quite how much of a "type" I have until I made this list.)
Thanks Keris! Check out the rest of the blog tour
here
.