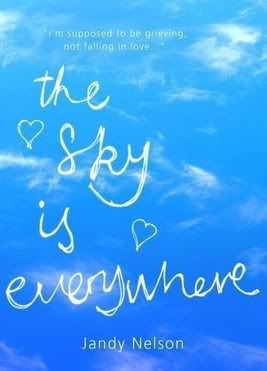 It's a bit of a Jandy Nelson day here on Wondrous Reads: I'm one of the stops on Walker Books'
The Sky is Everywhere
blog tour (click
here
to read the Amazon synopsis), and have an exclusive extract and poem to share with you all. You can read the second extract over at
Teenage Fiction for All Ages
, who will then give you directions of where to go next.
The Sky is Everywhere
is officially published in the UK on 7th June. Check back later tonight for a very cool UK only giveaway!
The Sky is Everywhere
by Jandy Nelson
Extract #1
"It was great hanging out with you, Lennie, made me feel better."
"Me too," I say, plucking a lavender petal. "Much better, really." I say this quietly and to the rosebush, not sure I even want him to hear, but when I peek back up at his face, it's kind, his leonine features less lion, more cub.
"Yeah," he says, looking at me, his dark eyes both shiny and sad. He lifts his arm, and for a second I think he's going to touch my face with his hand, but he just runs his fingers through the tumble of sunshine that is his hair.
We walk the few remaining steps to the road in slow motion. Once there, Lucy and Ethel emerge out of nowhere and start climbing all over Toby, who has dropped to his knees to say goodbye to them. He holds his skateboard in one hand, ruffling and petting the dogs with the other as he whispers unintelligible words into their fur.
"You really are St Francis, huh?" I have a thing for the saints – the miracles, not the mortifications.
"It's been said." A soft smile meanders across the broad planes of his face, landing in his eyes. "Mostly by your sister." For a split second, I want to tell him it was me who thought that, not Bailey.
He finishes his farewell, stands back up, then drops his skateboard to the ground, steadying it with his foot. He doesn't get on. A few years pass.
"I should go," he says, not going.
"Yeah," I say. A few more.
Before he finally hops on his board, he hugs me goodbye and we hold on to each other so tightly under the sad, starless sky that for a moment I feel as if our heartbreak were one instead of two.
But then all of a sudden, I feel a hardness against my hip, him, that. Holy freaking sh*t! I pull back quickly, say goodbye, and run back into the house.
I don't know if he knows that I felt him.
I don't know anything.