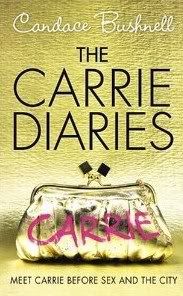 Publisher:
HarperCollins
Format:
Hardcover
Released:
April 29th, 2010
Grade rating:
B+
Amazon summary:
The Carrie Diaries
is the coming-of-age story of one of the most iconic characters of our generation. Before
Sex and the City
, Carrie Bradshaw was a small town girl who knew she wanted more. She's ready for real life to start, but first she must navigate her senior year of high school. Up until now, Carrie and her friends have been inseparable. Then Sebastian Kydd comes into the picture, and a friend's betrayal makes her question everything.
Review:
I'm not a big fan of
Sex and the City
; I've only ever seen a couple of episodes, and I fell asleep halfway through the first film. Despite my ignorance, I do know the general story of the four New York socialites, though my knowledge is hazy at best. When I first heard about
The Carrie Diaries
, I had no interest in it at all. Then I read a few reviews, and thought it sounded a bit like
Gossip Girl
. That was enough to make me want to read it, and I'm so glad I did.
Teenage Carrie Bradshaw is a driven, ambitious girl who has her head screwed on tightly. She doesn't let anyone, whether it be friends or boys, push her around, and she does what she wants to do. She's faced with all the usual teenage grievances, including bad boyfriends, high school back-stabbing and the constant pressure to lose her virginity. She doesn't let peer pressure sway her decisions, and for that I absolutely admired her strength of character. Her interest in writing is an outlet of sorts, and proves to be a very worthwhile hobby that, thankfully, she pursues.
In addition to Carrie, this book also has some fantastic secondary characters. Walt and The Mouse are my favourites, and I like to think they stay in touch with Carrie in the future, as they really are the best kind of friends a girl could have. Bad boy Sebastian and nice, normal George provide the romantic element of the story and, though I preferred Sebastian (don't ask me why I go for the bad ones, 'cause I don't know), George is definitely the more reliable of the two. As Greenday once said: nice guys finish last. But hey, at least they try.
Things get a little too convenient for Carrie every now and then, and that's my only real criticism of the story. One of the plot threads involves an article in a school newspaper, and I think if that particular scenario had happened in reality, it would have been dealt with a lot more severely, rather than being condoned.
The Carrie Diaries
is pure chick-litty goodness. It's got romance, gossip, high school banter and a feisty female heroine. It's a journey of self-discovery, as well as a no holds barred look at the obstacles that can stand in the way of family, friends and dreams. I really hope Bushnell continues Carrie's YA story, as I want to read more!