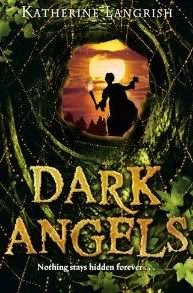 Publisher:
HarperCollins
Format:
Paperback
Released:
April 30th, 2009
Grade rating:
B/B+
Amazon summary:
When Wolf runs away from the monastery where he grew up, he finds himself lost on Devil's Edge -- a hill riddled with old mine shafts, said to be infested with ghosts, boggarts, elves, and perhaps even the Devil himself. Wolf meets a local knight out hunting, who offers him work and shelter in his castle -- a place inhabited by a host of unexpected characters -- a hearth hob, a ghostly white lady and a mysterious wandering juggler... Together Wolf and Nest, the knight's daughter, become embroiled in a mystery which leads Wolf into the very darkest depths of Devil's Edge...
Review:
Dark Angels
was a surprisingly gripping tale, and I can't quite put my finger on why. I think it had something to do with Elfgift the elf child and the hearth-hob, though it could also be the spooky setting and occasional mention of Lucifer and the angels.
I had no idea what to expect when I read this book, but I definitely wasn't expecting to love the characters so much. Between Wolf, Nest and the aforementioned little creatures,
Dark Angels
had a cast of really loveable people. The setting was also extremely atmospheric and well described, not to mention a little creepy at times.
I was hoping for the action to pick up along the way, but instead the focus fell to the well-rounded characters. I also thought it was slightly too long and drawn out, though that all comes down to personal reading preference. The unexpected ending was exciting, and was a fantastic end to a well-written, captivating story.
Overall,
Dark Angels
was an unusual tale of adventure, loyalty and sacrifice. I'm sure it will appeal to fantasy readers, as well as those looking for something a bit different. I'm interested to read more by Langrish, and I'll be sure to check out her
Troll
trilogy sometime in the future.