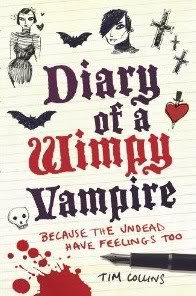 Publisher:
Michael O'Mara Books
Format:
Paperback
Released:
May 20th, 2010
Grade rating:
A-
Amazon summary:
Like Edward Cullen in
Twilight
, Nigel Mullet was transformed into a vampire when he was still a teenager, and will remain this age forever. Unfortunately, Nigel became a vampire at the awkward age of fifteen, and must spend eternity coping with acne, a breaking voice, and an ineptitude with girls . . . In this, his excruciatingly funny diary, Nigel chronicles his increasingly desperate attempts to be noticed by the love of his life, Chloe Sparrow, the constant mortification caused by his vampire parents (not to mention the worry that they might accidentally eat one of his friends), and the frustration one feels when you ve got the whole of boring eternity stretching out in front of you.
Review:
Nigel Mullet is nothing like the beautiful, sparkly vampires we've all become so accustomed to. He doesn't dazzle anyone with one smouldering look, he's not a smooth talker and he certainly doesn't possess any cool vampire abilities. He's a normal 100-year-old vampire forever trapped in a 15-year-old's body, and he's bored. Very bored. That is, until he meets Chloe - love of his life and the object of his eternal affection. Then begins a quest to make her his girlfriend, which is both hilarious and cringeworthy. But mostly hilarious.
I really enjoyed
Diary of a Wimpy Vampire
, though I knew I would as soon as I read the summary. It had me laughing out loud on many occasions, and the parody side of it was so amusing. Imagine a geeky Edward Cullen pining over the girl he can't get, then add a bit of Spike's terrible poetry to the mix, and you get Nigel. Being in high school forever sounds like complete torture, and his embarrassing parents don't help matters. His dad wears capes and his sister is a 10-year-old wannabe princess... things can't get any worse! Sounds funny? It is!
Tim Collins has written a brilliant diary-style book that vampire fans will love. It includes fantastically funny illustrations, and you can't help but feel sorry for Nigel. Navigating high school is hard at the best of times, but when you're almost 100 years old and still haven't bitten a girl's neck.. well.. what can you do? I really hope a sequel is in the pipeline, because I want more from Nigel. I'd love to see how he deals with things after the book ends, and I also want to see more of his family. They are so cool!
Diary of a Wimpy Vampire
has been described as
Twilight
meets
Adrian Mole
, and I can't think of a better way of selling it. It has all the awkwardness of Adrian Mole's teen years, along with the vampirism you'd expect from Stephenie Meyer. Although sun rashes and a lack of strength have nothing on mesmerising golden eyes, Nigel still rocks, 'cause he does it all with a killer sense of humour. No pun intended.