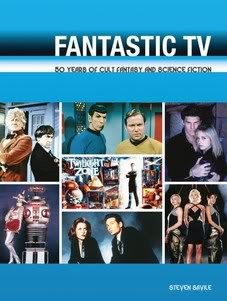 Publisher:
Plexus
Format:
Large paperback
Released:
May 2010
Grade rating:

B+/A-
Amazon summary:
Fantastic TV
is an illustrated celebration of five decades of sci-fi and fantasy series. Featuring interviews with writers and creators of each of the classic shows covered, offering a unique insight into the impact of genre TV from the men and women who brought their visions to life on the small screen. Interviewees reminiscences and the author s loving tributes describe the importance and/or uniqueness of all these different shows; how they relate to the world of genre fiction; how video truly did kill off its radio star predecessor, and how these shows continue to influence the writers and artists of today.
Review:
I don't usually review non-fiction books like this, but I'm a huge fan of TV shows, so
Fantastic TV
was a must read for me. It's a really well presented book, complete with black and white photographs and a lot more text than I expected.
Fantastic TV
covers '50 years of cult fantasy and science-fiction', as the cover says. It covers everything from
Lost in Space
and
Star Trek
to
Buffy the Vampire Slayer
and
Supernatural
. It even includes lesser known shows such as the short-lived Channel 4 vampire show
Ultraviolet,
which was first broadcast here in the UK in 1998. Savile splits the book up into 8 sections, each with cool titles like 'Stranger Things Happen' and 'A New Kind of Hero'. The shows are then organised into their relative sections, which makes
Fantastic TV
very easy to read when flicking through it as a coffee table book.
Savile delves into the history and influences of each show, while giving a detailed description of its plot and who it will appeal to. He also analyses trends responsible for each show's inception, and reasons behind their popularity. When reading
Fantastic TV
, you can absolutely tell how much Savile loves what he's writing about. Like me, he's a fan of TV, and has an immense passion for it. This makes it very easy to connect with his writing and his style and, as a fan of these shows, puts you on a somewhat personal level with him. There are no glaring continuity mistakes in his research (that I noticed), and I can only imagine the fun he had compiling this handbook for TV enthusiasts.
I would have liked to see a few more fun sections - maybe memorable quotes from the shows or some trivia - just to break up the blocks of text a bit more. I personally love finding out random facts and figures, and while there are some interspersed within each show's main information, I thought that was an area that could have been explored more.
Fantastic TV
is just that - a fantastic recource for fans of TV. The shows have been thoughtfully chosen, and though it would have been impossible to cover everything, the shows it does cover are definitely the right ones. Whether you're a fan of Mulder and Scully, Wonder Woman or the Doctor himself, there's something in here for everyone, along with lots to learn about your favourite characters, new or old.