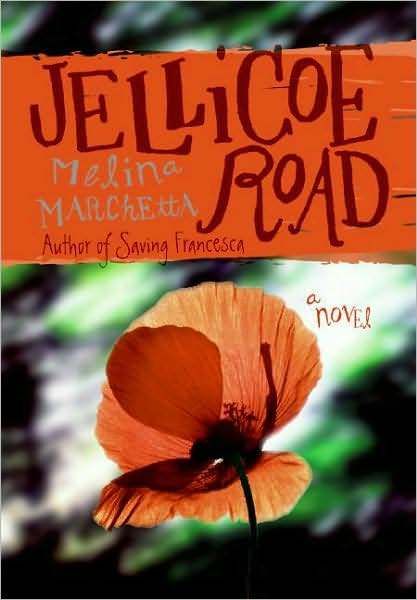 Publisher:
HarperTeen
Format:
Hardcover
Released:
August 26th, 2008
Grade rating:
A+
Amazon summary:
Abandoned by her mother on Jellicoe Road when she was eleven, Taylor Markham, now seventeen, is finally being confronted with her past. But as the reluctant leader of her boarding school dorm, there isn't a lot of time for introspection. And while Hannah, the closest adult Taylor has to family, has disappeared, Jonah Griggs is back in town, moody stares and all. In this absorbing story by Melina Marchetta, nothing is as it seems and every clue leads to more questions as Taylor tries to work out the connection between her mother dumping her, Hannah finding her then and her sudden departure now, a mysterious stranger who once whispered something in her ear, a boy in her dreams, five kids who lived on Jellicoe Road eighteen years ago, and the maddening and magnetic Jonah Griggs, who knows her better than she thinks he does. If Taylor can put together the pieces of her past, she might just be able to change her future.

Review:
Jellicoe Road
is incredible. I have no idea how Melina Marchetta wrote it, nor do I know how she managed to weave such an intricate tale spanning over 22 years. It's one of those books that refuses to let you go until you've reached the end, and it's a story that really does stay in your head for days. I loved it so much, I'm seriously considering reading it again.
The first 100-120 pages are pretty confusing. The past keeps appearing, people and places are alluded to, and nothing makes a lot of sense. After that, everything slowly starts slotting together, in what is possibly the best depiction of friendship I've ever come across. I can't really say anything else without giving something away, but here's a tip: read the prologue a couple of times, and read it carefully.
Marchetta talks about the Jellicoe Road like it's a character in itself, and it's just brilliant. If I could zap myself to that road right now, I would. I want to experience the Australian beauty she describes in such detail, and whether it's a real road or not, I want to go there. As you've probably guessed, the novel is primarily character-driven, and that's why I loved it so much. I haven't liked a group of people so much in ages, and their realism astounded me. The original 5 - Webb, Narnie, Tate, Jude and Fitz - are off-the-chart awesome, and their friendship is so inspiring. It's how every friendship should be and, although the circumstances in which they meet aren't favourable, it's the catalyst for a bond that will last a lifetime.
In the present, Taylor Markham and Jonah Griggs are the main protagonists, along with Santangelo, Raffy, a mysterious Brigadier and numerous other classmates. They're all in the middle of a turf war between the boarders, the townies and the cadets, which is a tradition that has been taking place for years. The turf war is a fantastic plot, and that alone would have made this book amazing. I could talk for hours and hours about these characters, so I'll just say that Taylor is one heck of a leading lady, and Jonah Griggs is now one of my top YA boys. *swoon*
The way
Jellicoe Road
unfolds is nothing short of genius, and it's a book that is guaranteed to leave you in tears. I know this review explains nothing, and doesn't tell you why it's an absolute must-read, but if I said anything else, it would ruin it. You need to approach it knowing nothing more than the summary, then you too can experience all the OMG moments that I did. Fellow YA fans, you NEED to read this book. You'll fall in love with it, I promise.