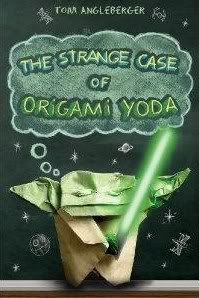 Publisher:
Abrams
Format:
Hardcover
Released:
May 2010
Grade rating:
C+/B-
Amazon summary:
In this funny, uncannily wise portrait of the dynamics of a sixth-grade class and of the greatness that sometimes comes in unlikely packages, Dwight, a loser, talks to his classmates via an origami finger puppet of Yoda. If that weren't strange enough, the puppet is uncannily wise and prescient. Origami Yoda predicts the date of a pop quiz, guesses who stole the classroom Shakespeare bust, and saves a classmate from popularity-crushing embarrassment with some well-timed advice. Dwight's classmate Tommy wonders how Yoda can be so smart when Dwight himself is so clueless. With contributions from his puzzled classmates, he assembles the case file that forms this novel.
Review:
I don't usually mention book covers in my reviews, but in this instance I have to.
The Strange Case of Origami Yoda
has one of my favourite covers of any book I own, and every time I look at it, I laugh. I'd have read it just for that reason, which I know is pretty bad because it in no way reflects the content. Still, it never fails to make me smile, and I really want to try and make my own Yoda! Orgiami isn't my area of expertise, but I'll give it a go.
The book itself is what you'd expect: fun and fast, with a few life lessons that middle grade readers will no doubt find helpful. Dwight and his Yoda finger puppet offer advice to a lot of people, often with hilarious consequences, including a legitimate reason to learn how to dance the Twist. It's random and entertaining, and by writing it as part of Tommy's casefile, Angleberger opened the floor to multiple narratives, doodles and hand-written notes.
Regular readers of my blog will know that I love novels that incorporate illustrations and diagrams into the text, as it adds a bit of variety and individualism to the story. I wanted to love
Origami Yoda
's text as much as I love the cover, but it felt a little flat to me. The characters never grabbed me, though I have been left with a soft spot for origami Yoda. He's so cute and wise, and made of paper.
Star Wars
fans will love the idea of him, I'm sure!
I think
The Strange Case of Origami Yoda
will be a hit with middle grade readers, as well as those looking for a quick, light read filled with
Star Wars
references and a very memorable character made from origami. Now, back to my paper folding instructions...