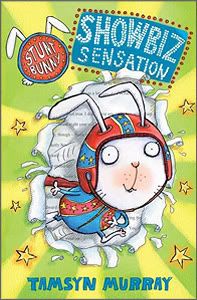 Publisher:
Simon & Schuster
Format:
Paperback
Released:
May 27th, 2010
Grade rating:
A-
Amazon summary:
Meet Harriet Houdini, a young rabbit with lots of attitude, as she settles into life with her new family. Never destined to be a boring bunny, Harriet finds herself scouted by the producer of hit TV show Superpets and starts her career on the showbiz ladder. From daring backflips to thrilling escape attempts Harriet really is a Stunt Bunny extraordinaire!
Review:
I don't usually review books for an age group this young (5+), but I enjoyed Murray's YA debut,
My So-Called Afterlife
, so thought I'd give this one a go as a one-off change. One chapter in, I knew I'd made the right decision -- I was laughing my head off at Harriet's hutch antics, not to mention the fantastically funny illustrations by Lee Wildish.
Murray's writing is brilliant to read. It's amusing in the best way, and her characters are charming and intelligent animals with personalities that kids will love. Thanks to Harriet herself, as well as Smudge the family cat and Doodle the opera-singing Poodle, things are never dull in
Showbiz Sensation
.
This is exactly the kind of book I would have loved when I was little, and I'm sure any child reading it will enjoy it. I've never heard of a famous cartwheeling, somersaulting pet rabbit before, but if I could somehow own one, I would. Though I'd have to get it a really, really sturdy cage, for fear of an Alcatraz-like escape plan taking place.
Great stuff.