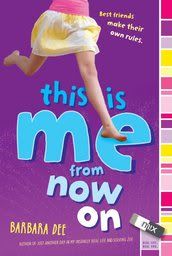 Publisher:
Aladdin
Format:
Paperback
Released:
April 27th, 2010
Grade rating:
A-
Amazon summary:
Sometimes your life just needs a little jolt.
This is what Evie's new friend Francesca tells her, and soon enough, Evie's life has had something more like an earthquake. Francesca thinks life is dull unless you go after everything you want and say everything on your mind all the time--and sometimes that includes giving other people a little behind the scenes help to give them what she thinks they want. Evie can't always tell if she's horrified or fascinated by everything Francesca convinces her to do, but ultimately, she comes to see friendship--and life--in a whole new light.
Review:
I loved this book from beginning to end. It's a light, enjoyable read, with excellent characters and a plot that I'm sure will resonate with a lot of middle grade students.
Friendship is the order of the day in
This Is Me From Now On
. They're torn apart, reconciled, and newly appreciated. Middle school (and high school) are murky waters when it comes to relationships, and things can easily change at the drop of a hat. BFFs are forgotten about when a boy shows up, new friends take the place of old friends, and cliques mix and match like their lives depend on it. This is all explored in
This Is Me From Now On
, with Dee's writing giving the impression she may have experienced it for herself.
Dee's dialogue is authentic, without any annoying exaggerated teen speak. She doesn't constantly talk in numbers and abbreviated words, and it makes the characters that much more realistic. The plot is engaging, and I read through the book with no breaks, as it's written in a compelling style that really is hard to put down.
Evie, Nisha and Lily are such a cool group of girls, and even though they have their problems and disagreements, they're always there for each other. When new girl Francesca moves to the area, things are epically shaken up, and what follows is a story worthy of a teen movie. I can just see it now: a popular teen starlet playing Evie, and Taylor Lautner playing boy interest Zane... but anyway, that's beside the point.
This one is aimed at a slightly younger teen audience, and because of that it is a little predictable. I actually guessed what would happen, which is very unusual for me! It will in no way change your life, but it's one fun read. I'll be checking out more by this author, and I urge you guys to as well. If you know anyone in seventh grade, point them in Barbara Dee's direction.