Ellen Hopkins is one of my all-time favourite authors, not to mention a multiple New York Times Bestseller. She's written numerous books for young adults, including:
Crank
,
Glass
,
Burned
,
Impulse
,
Identical
,
Tricks
and upcoming release
Fallout
. Thanks again, Ellen, for offering to be interviewed. *big grin*
----------
What inspired you to put your poetry, thoughts and ideas on to paper, and create the NYT bestseller

Crank

?
Crank
was inspired by a personal story. "Kristina" very much resembles my oldest daughter, who became addicted to methamphetamine while she was still in high school. I thought it was important for people to know that addiction can happen to anyone, even "good" kids. She was in fact a straight-A student, with major life goals that will never happen because she met the wrong guy, who introduced her to meth. And our lives will never be the same.
Is it difficult to constantly write in poetic verse?
In writing
Crank
, I discovered a talent for storytelling through verse, and with each book it has actually become easier. I love writing this way.
How do you feel about the censorship issues -- often brought to light by parents and teachers -- surrounding your books?
I don't believe any one person should have the power to decide what everyone else does or does not get to read. Every readers has a different life experience and what might be "too much" for one may speak loudly to another. If you don't like a book, don't read it. But don't dare try to speak for everyone else!
You never shy away from writing about important themes and issues that many teenagers will unfortunately face. How do you go about researching each book, and what's the average time for you to complete a first draft?
I research heavily within the character development phase that comes before I start writing a book. Some things can be researched online (for instance drug interactions, or steroid side effects), but I prefer to do first-hand research. So with
TRICKS
, I spent time with Las Vegas vice, talking to young prostitutes on the street. And often I can simply ask my readers if they've been affected by something I'm writing about. With
PERFECT
, the book I'm writing now, I have a character who competes in beauty pageants, so I asked my army of readers about personal experiences with pageants, and got dozens of responses.
I am writing a book per year, but don't do "drafts" per se, as I revise heavily as I go. I really have to write this way because of the way one poem flows right into the next. When I finish a book, it goes straight to my editor.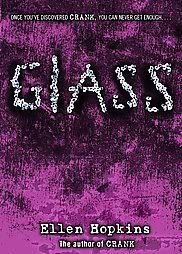 I personally think your books are the most important books on shelves. They provide a realistic look at problems in life and society, and give teenagers the courage to ask for help. Have you ever received any feedback from readers who have changed their lifestyle after reading one of your novels?
Every single day. I'm fielding hundreds of emails, messages, friend requests, etc. every day, and many tell me I've made them rethink their lives, or that I've offered insight into a loved one's problems. It's truly gratifying.
Crank

,

Glass

and

Fallout

are inspired by your own personal life. How much is fact, and how much is fiction?
The first two are around 60% fact, with details fictionalized and some people changed so they don't too closely resemble the real players. All the major plot points really happened.
Fallout
is different, but definitely rooted in reality.
Fallout

, which is published in September, sees the end of the

Crank

series. What can readers expect from this final instalment?
The book moves into the POVs of three of Kristina's children, now teens in the book and dealing with their lives, with her largely not in them. I am writing the future because the real Hunter is 13, and I write him at 19. The others are now 11 and 8, and I write them at 17 and 15.
Why did you choose to set

Fallout

so many years after

Glass

, and did the time-jump present any problems?
I wanted to give readers the rest of Kristina's story, only not through her eyes. I didn't want to write more of the same. By moving into her children's POVs, I give voice to them, and to my readers (there are many) who are dealing with their parents' addictions. And by moving that far into the future (only one possible future, inspired by what I see now), I can end this story. I needed a way to end it.
Is

Fallout

definitely the last time you'll visit Kristina's world, or would you consider continuing Hunter, Summer and Autumn's stories?
My plan is to finish this story with this book.
Can you tell us anything about the

Impulse

companion novel,

Perfect

, which will be published in 2011?
Perfect
is a companion (rather than a sequel) to
Impulse
, so takes place at the same time, with Conner's twin, Cara, as one of the main characters. Conner's story is that he was driven to try and attain perfection, in his overbearing parents' eyes. Cara is expected to do the same. She, and the other three main characters, explore artificial standards of beauty and physical prowess, and the lengths some young people go to to try and attain them. The book will go beyond the end of Impulse, so readers will see a little more of Tony and Vanessa, as well as how Conner's fate affects the community and his family.
----------
Related links: