Publisher:
Hodder Children's
Format:
Hardcover
Released:
June 3rd, 2010
Grade rating:
A-
Amazon summary:
The story of Scarlett and Rosie March, two highly-skilled sisters who have been hunting Fenris (werewolves) – who prey on teen girls – since Scarlett lost her eye years ago while defending Rosie in an attack. Scarlett lives to destroy the Fenris, and she and Rosie lure them in with red cloaks (a colour the wolves can't resist), though Rosie hunts more out of debt to her sister than drive. But things seem to be changing. The wolves are getting stronger and harder to fight, and there has been a rash of news reports about countless teenage girls being brutally murdered in the city. Scarlett and Rosie soon discover the truth, meanwhile,
Rosie finds herself drawn to old friend Silas, and the bond they share not only drives the sisters apart, but could destroy all they've worked for.
Review:
Sisters Red
is the best paranormal book I've read for AGES. Gone are the helpless girls who fall for impossibly beautiful supernatural beings, and in their place are two kick-ass sisters with more anger and resolve than the baddest of the bad. It's a refreshing read that has restored my faith in the genre, and Jackson Pearce has more than secured herself a place among YA's super-talented authors.
Sisters Red
is loosely based on the
Little Red Riding Hood
fairytale, and is a modern day retelling with a difference. It's not at all what I expected, which, if I'm honest, was a fluffy fairytale with a wolf murder or two. Instead, what I got was a page-turning, action-filled display of female strength and resilience, with a down to earth male love interest thrown into the mix.
Werewolves - known as fenris - are the order of the day for sisters Scarlett and Rosie March, who spend their lives hunting wolves and preventing them from eating helpless girls. Scarlett's the badass of the two sisters, and reminded me so much of Buffy from
Buffy the Vampire Slayer
. Too often in recent fiction the girls are all mopey and reliant on their boyfriends, but not Scarlett. Oh no, she doesn't need a man to keep her going, and she sure isn't scared to walk the road of darkness and danger. If there's a werewolf to be taken care of, she's your girl.
Rosie is similar to Scarlett, but she craves a normal life. She's a fierce hunter like her sister, though she tends to stay with her out of loyalty, rather than a need for wolfy revenge. The sisters team up with old family friend Silas, who knows everything, and is pretty good with an axe. Woodcutter skillz come in handy -- who knew? He's an excellent character, with one major trait that makes him stand out from other YA characters: he's not immortal. He can get hurt, he can bleed, and he can experience fear. Simply put, he rocks.
I was surprised by the dark tone of
Sisters Red
, as Jackson's debut novel,
As You Wish
, is about as different as you can get. It wasn't at all what I was expecting, but I loved the heartbreaking story of these two sisters trapped in a world of werewolves and violence, forever destined to live outside the realms of normality. I would have really liked to see more of Scarlett and Rosie's past, whether it be through flashbacks or personal memories. Their bond is one of my favourite aspects of the novel, and I could have read pages and pages about their early years.
If you think the YA paranormal market has been saturated beyond repair, think again. Jackson Pearce has arrived, and has brought with her a book that's set to make you believe in monsters again. I'm not sure if Jackson has plans for a sequel, but I'm hoping she does. It would be a crime not to revisit these characters, so keep your fingers crossed!
-----

Author Interview: Jackson Pearce
Sisters Red

is vastly different to your debut novel,

As You Wish

. How did it come about?
It honestly wasn't a conscious decision—the story of
AS YOU WISH
just happened to be rather light, and the story of
SISTERS RED
just happened to be rather dark. I did worry about alienating some of my
AS YOU WISH
readers with a story so much heavier, but hopefully that won't be the case. Either way, I feel like each story was told the way it needed to be told—
AS YOU WISH
would have felt fake if I'd tried to make it dark, as
SISTERS RED
would have felt really fake if I'd tried to make it lighter. There's just not really a "light" way to fight werewolves!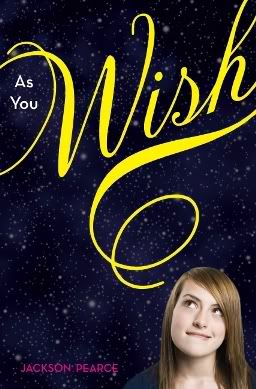 Why did you choose to write for a YA audience?
Again, I don't feel like it's a conscious decision—YA is just the genre I love to read and to write! That said, I feel like teens are the absolute best audience in the world. They feel everything bigger, stronger, and bolder, so it only makes sense that their stories would be emotionally intense. They really attack life, they love without restraint, and they make choices that will last forever. I by no means intend to imply that teens are somehow less mature or worldly than adults, or anything like that—I just think that being a teen is a very unique experience, one I really enjoy capturing on paper.
So basically—I write for the YA audience because they're awesome, and in comparison, adults are kinda boring.
Scarlett and Rosie are two of the strongest female characters I've come across. Who were they, and their relationship, inspired by?
Scarlett and Rosie weren't necessarily inspired by any one person in particular, but I think both of them inherited a few traits from me and my sister. My sister and I honestly weren't extremely close growing up, and it wasn't until we both got a little older and understood who we were as individuals and who we were as sisters that we began to get along better. Scarlett and Rosie are obviously extremely close, but I feel like they go through similar self-discovery.
Did you help design the fantastic cover, or was that all down to your publishers?
I had nothing to do with the cover—but WOW do I wish I did. I love it so much that I've ever considered getting one of the elements tattooed! It was designed by the amazing strawberryluna (
strawberryluna.com
) who is not only a talented artist, but a genuinely nice person as well.
Can you tell us anything about your upcoming

Sisters Red

companion novel,

Sweetly

?
SWEETLY
is a retelling of Hansel and Gretel—below is the summary!
Twelve years ago, Gretchen, her twin sister, and her brother went looking for a witch in the forest. They found something—maybe a witch, maybe a monster, they aren't sure—they were running to fast to tell. Either way, Gretchen's twin sister was never seen again.
Years later, after being thrown out of their house, Gretchen and Ansel find themselves in Live Oak, South Carolina, a place on the verge of being a ghost town. They move in with Sophia Kelly, a young and beautiful chocolatier owner who seems to understand Gretchen and Ansel better than anyone has before.
Yet the witch isn't gone—it's here, lurking in the forests of Live Oak, preying on Live Oak girls every year after Sophia Kelly's infamous chocolate festival. Alongside Samuel Reynolds, a boy as quick with a gun as he is with a sarcastic remark, Gretchen is determined to stop running from witches in the forest, and start fighting back. But as Gretchen digs deeper into the mystery of not only what the witch is, but how it chooses its victims, she finds herself wondering who the real monster is.
In a showdown between Scarlett March and Buffy Summers, who do you think would win?
Scarlett, but only because Buffy has that nice, I-don't-want-to-hurt-you streak in her when it comes to fighting non-monsters. Scarlett doesn't. But then again, Buffy has super slayer healing powers that Scarlett lacks, so maybe Buffy could just outlast Scarlett? Hm…I don't know!
What are some of your favourite YA books?
I LOVE
Beautiful Creatures
,
The Hunger Games
, and
Looking for Alaska
, just to name a few. There are so many amazing YA books out there now, it's hard to not go on for ages!