Last week I went to London for 3 days, for an epic trip full of book goodness. It was AMAZING, and here's why... (sorry for the length/detail.. feel free to fall asleep!).
Monday
I got to London at around midday, got some food and mooched about for a bit before heading to the hotel to interview Scott Westerfeld and Sarah Rees Brennan. I was pretty scared of getting lost, but thanks to some good directions and my handy BlackBerry GPS, I found it in plenty of time. I met Kat from Simon & Schuster there, and we had a chat until Scott and Sarah came down. I love Kat, which is a fact I feel should be widely known!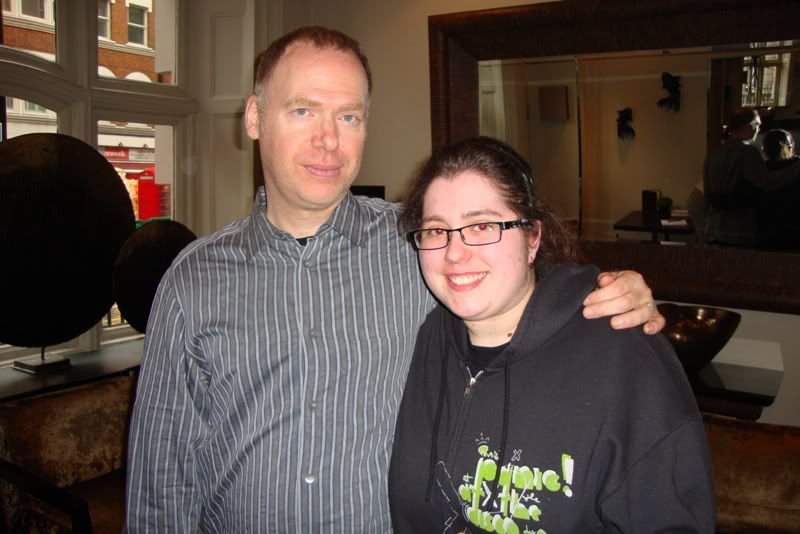 Scott and Sarah were both absolutely lovely, and I interviewed them for half an hour each. Scott showed me some exciting art (on his insanely cool iPad) from his upcoming book
Behemoth
, and I still managed to construct sentences throughout my excitement (I LOVE
Leviathan
). I was quite proud of myself. The art was fantastic, and I can't wait to see it in the book. He also showed me some art from a future
Leviathan
project, details of which will be revealed in my interview!
Sarah was completely mental but so funny and friendly. She has the BEST stories, and just kept coming up with them. I fear my interview was quite bad, as I basically just laughed all the way through it. She let me in on a few spoilers for book #3, and also explained why she switched from Team Jacob to Team Edward. Huzzah! Sarah stayed and chatted to me afterwards as well, but I didn't record any of that. It mostly consisted of a Team Gale/Team Peeta debate, of which I'm ashamed to say I didn't win (I'm Team Gale). I know I said it already (many times), but BIG thanks to Scott and Sarah for letting me interview them. It was very, very cool.
After the interviews, Jeanette from Write Away.org let me tag along with her to the Oxo Tower, where the S&S children's trade dinner was taking place later that night. The Oxo Tower is right next to the Thames, so I finally got to see the river. It was raining at the time though, so it all just looked grey and, well, wet. More on the Thames later.
The Oxo Tower was super posh, and I must admit I felt a bit nervous. I'm not usually one for posh restaurants, but it turned out to be a really good night! I think there were 15 of us there: members of the amazing S&S children's team (helloooo!), people from newspapers and magazines, Scott Westerfeld and his wife Justine Larbalestier, Sarah Rees Brennan, Jeanette and myself. I ended up sat opposite Caroline Horn from The Bookseller, and next to Sarah Rees Brennan, which, you've guessed it, kept me laughing for most of the night.
The food was interesting, and mostly new to me. I'm not an adventurous eater (I'm rather picky, actually), but I found out that I hate pea soup and love sea bass. It was quite a productive night, me thinks. After food we all swapped around and got to talk to different people. Scott sat next to me for a while, and left me in charge of his trusty iPad. I guarded it with my life, seriously. That thing has everything on it. Then he introduced me to Justine, who was so nice, friendly and intelligent. I could have talked to her for a lot longer than I did! It was also great to finally meet everyone from the S&S team, and they were all brilliant.
After that it was back to the tube and to Kat's house, where I got my hands on an ARC of Cassie Clare's
Clockwork Angel
(*squee*), saw a finished copy of the UK edition of Kieran Scott's
She's So Dead to Us
and had a long overdue sleep, ready for a VERY early morning on Tuesday...
Tuesday
Yep, by early morning I mean 6.20am. 6.20!!! I told my mum I got up at that time, and she laughed at me until she realised I wasn't joking. Kat introduced me to my first red London bus, where I learnt not to say anything, as the driver doesn't say anything to you. Random, but true. After leaving Kat at a tube stop I can't remember, I went to Euston station, had some food, IM'd Carla (from
The Crooked Shelf
- she'll be mentioned a lot), then headed off to the Puffin offices for a meeting with my friend Sarah.
Sarah is an editor at Puffin, and is just the nicest person ever. We had a good chat over a can of 7up, and she gave me copies of Ally Condie's
Matched
, Pittacus Lore's
I Am Number Four
and Morris Gleitzman's
Grace
. I was SO SO excited, as I'm sure Sarah could tell you. I *almost* started reading
Matched
right there and then, but I managed to control myself. Thanks Sarah, and lovely to see you again!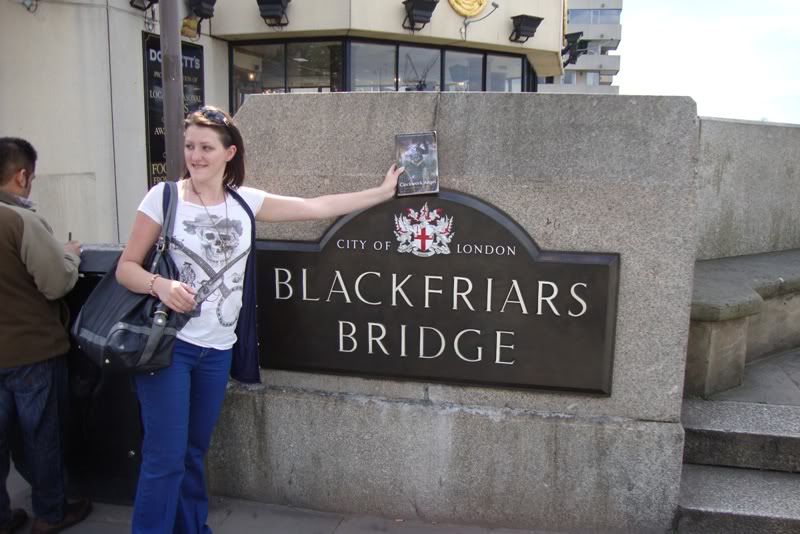 After leaving the Puffin offices, it was time to go and meet Carla at Euston station. I gave her a copy of
Matched
and
iBoy
by Kevin Brooks, which I got the impression she liked, seeing as she jumped up and down. Then she spied
Clockwork Angel
in my bag and that was that. Believe me, 'excited' is not the word to use to describe that particular moment in time. Cassie Clare had told her to take a pic with the book at Blackfriars Bridge, which, after bumping in to H from Headline (*waves*), is where we headed off to next.
It was a really nice walk along the Thames, even though my hayfever decided to be the worst its been for years. Sigh. Anyway, we found Blackfriars Bridge, took many pictures (Carla and the Bridge is above), and probably scared some perfectly normal Londoners wondering who the crazy northern girls were. I've never laughed so much as I did walking back along the Thames, and you can read more about that in
Carla's London post
. One pizza later and we were headed for Sarah Rees Brennan's
Demon's Covenant
launch event!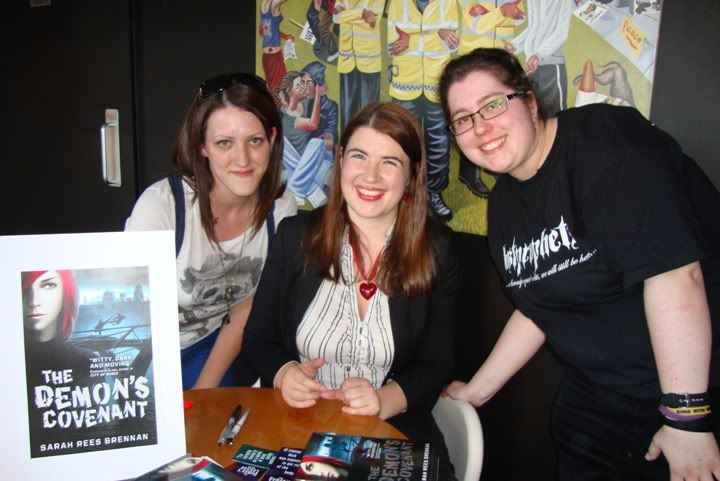 We were pretty lost looking for Shortwave Cinema, which is when luck struck and we bumped into Kat, jumped in a cab (hailed by Cab Queen Carla), and arrived at the cinema safe and sound. Trisha Telep of Murder One/editor fame greeted us, sold some books and was generally her cool self. Some of my other friends - Leanne, Laura and Becca - arrived, so we had a bit of a YA appreciation thing going on until Sarah arrived. She signed books for ages, and the event was a great success. She then read from book #3, and answered some questions, before settling down to watch
Kiss Kiss Bang Bang
in the cinema section of the venue. Robert Downey Jr., pink hair and crime was her excuse for picking this film, and I have to say it was a good choice. Loved it!
Carla and I then went back to our nice hotel ("There's marble on the walls instead of mould", she said), stared at all our books and watched some of the Italian Job on TV. Then came sleep, after some arguments about the lights and a few (alleged) insults from me...
Wednesday
We got up pretty early again (8am ish, I think), and made our way to the Random House offices in Ealing. It was a longer tube journey than I'm used to, though I got to see parts of London I'd never been near before. By this time our bags were pretty heavy, though that got worse. We ate on the way, and I found out that Greggs shops in London do NOT have meat and potato pasties. What's all that about?!
We were greeted at Random House by the lovely Lauren, who introduced us to the children's publicity team, water and a plate of pastries. Yum yum. The publicists went through the rest of their 2010 list with us, gave us some new reading material and generally just chatted about books. I loved meeting them all, apart from Lauren who I already know.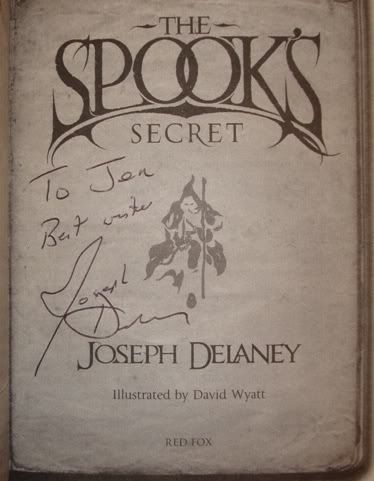 After an hour, we were then taken next door to the Transworld offices, where we had a meeting with Lynsey and Ben about their autumn adult list. They've got some really good stuff coming out, some of which has a crossover appeal (like
Prep
by Curtis Sittenfeld), so keep your eyes out for their upcoming releases. I was also introduced to the term 'Bonk Buster', which is just hilarious. And very fitting for the type of books it's applied to. Then it was back to the Random House offices to meet with 3 very nice editors, who let us ramble on for quite a while. They told us about some 2011 publications, one of which Carla got very excited about (Tessa Gratton's
Blood Magic
). We left with many exciting books, including John Boyne's new one,
Noah Barleywater Runs Away
, which made me do some kind of happy dance.
After leaving RHCB we got some food, then headed to Foyles, which is the best bookshop in London. There we saw Lauren from RHCB again, who was there while Joseph Delaney, author of the
Spooks
series, signed some stock. He very kindly signed a book for me, and we had a quick chat about where he was from (A fellow northener, yay!). We then went for pizza in Covent Garden, and back to Euston station with our ridiculously heavy bags for our 8.40pm train home to Manchester.
It was my best London trip yet, and I just want to thank Kat and the S&S team for inviting me to the dinner in the first place. I was already planning to go to Sarah's launch event on the Tuesday, but I never imagined I'd get to interview her and Scott beforehand. I'm a very happy blogger. :D
Here are a few more pics of people, places and swag... (click on the images to make them bigger!)