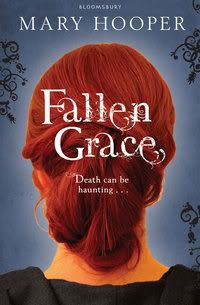 Publisher:
Bloomsbury
Format:
Hardcover
Released:
June 7th, 2010
Grade rating:
A
Amazon summary:
Grace Parkes has just had to do a terrible thing. Having given birth to an illegitimate child, she has travelled to the famed Brookwood Cemetery to place her small infant's body in a rich lady's coffin. Distraught and weeping, Grace meets two people at the cemetery: Mrs Emmeline Unwin and Mr James Solent. These two characters will have a profound affect upon Grace's life. But Grace doesn't know that yet...
Review:
This is the first book I've read by Mary Hooper, though she has been on my radar for quite a while. For some reason I've just never been drawn to her stories and, had I not received a review copy of
Fallen Grace
, I'm quite sure I wouldn't have picked it up. It's reasons like this - being introduced to new authors and genres - that make me glad to be a blogger, and I'd like to say a big thanks to Bloomsbury for prompting me to read such a brilliant author.
Fallen Grace
is set in England in the 1800s, which I believe is the Victorian era. I'll admit I'm not too good on my own country's historical periods, though thanks to books like this, I'm finally learning all about them. For this reason, I found
Fallen Grace
to be very educational, and I loved learning about the state of London and the way people lived. For example, I never knew that the whole country went into mourning when a member of the Royal Family died, or that so many horribly kept workhouses existed. Being poor was obviously worse than I thought it was.
What I loved most about
Fallen Grace
was Hooper's way of describing people, surroundings and London's general way of life. Time and time again the imagery was so vivid that I felt like I'd been transported back to the 1860s, with no shoes on my feet and a suffocating fog sweeping the city. When an author can truly make me believe in their writing like that, I know they're something special.
Hooper's characters were cleverly mastered and richly layered, and all as vividly realised as the city they inhabited. Grace was loving and selfless, even though she was dealing with something no-one should ever have to face. Lily was more simple and easily led, though she proved loyal and more intelligent than she seemed. Even the bad guys were written in such a way that I couldn't help but feel sorry for their sorry state of affairs, yet relieved at their outcome. I imagine they all took a long time to bring to life, and the effort and time spent on each individual story really showed in the writing.
At this moment in time, I honestly don't have a bad thing to say about
Fallen Grace
. It's opened my eyes to the historical YA genre, and has reminded me that it's good to branch out and try new authors and books. Mary Hooper is a fantastic writer, and I'll be reading more by her as soon as possible.