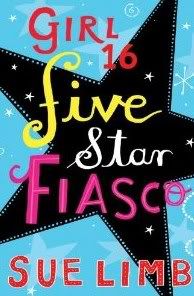 Publisher:
Bloomsbury
Format:
Paperback
Released:
June 7th, 2010
Grade rating:
B
Amazon summary:
The teenage world of Jess Jordon is looking characteristically chaotic: Mum has joined an online dating programme and has recruited Jess as advisor, while Jess's best friend Flora has a rich new boyfriend who Jess can't possibly keep up with. Then Jess's own boyfriend, Fred, does something unbelievably treacherous and spineless. Jess is becoming completely fed up with the male sex, and is beginning to think that the only reliable form of male is e-mail... Never mind, there's Valentine's Day to look forward to. Fred is sure to make amends then. Isn't he?
Review:
Sue Limb is a very, very funny woman. In fact, she's almost as funny as Louise Rennison who, to me, is the undisputed Queen of YA Humour. Limb's books have a similar lighthearted feel, and make light of all the worst and most embarrassing moments of being a teenager.
Girl, 16: Five Star Fiasco
is the fifth book in the Jess Jordan series, and is the first I've read. I think these books can be read as standalone titles, as I had no problem picking the series up from book 5. It mentions some previous goings-on that sound hilarious, so I think I will go back and read the rest at some point. Perhaps that's the reason I didn't enjoy this one more, as I haven't followed these characters through their last couple of teen years.
Limb's characters are quirky and fun, though not without their teen drama. There's relationship angst, parental problems and an identity crisis or two - basically everything you'd expect a 16-year-old to go through. Jess has a great individual voice, and is well on her way to becoming a comedian. I also really like her mum and dad, and boyfriend Fred, though he does cross over to the idiot side about halfway through the book.
Jess and her dad start writing a story called 'Lord of the Wrongs', and each write a section before sending it back to the other person. The extracts are some of the funniest things I've ever read, and as soon as I got to the part with Donald the snail and his motor attachment (not to mention SnailNav), I was cracking up laughing. Really, it's brilliant stuff, and I just wish there had been more from this story. Jess's dad stops writing it quite abruptly, then it's just sort of forgotten, which is a shame. I could have read much more!
I'm looking forward to reading more by Sue Limb, as her writing brightens up my day. I'll be sure to check out the rest of the Jess Jordan books, as well as the
Zoe & Chloe
series, of which I've read the latest instalment. They are a lot of fun!