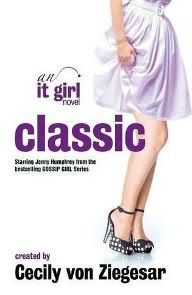 Publisher:
Headline
Format:
Paperback
Released:
June 10th, 2010
Grade rating:
B+
Amazon summary:
It's almost Valentine's Day at Waverly Academy, and love is in the air...and in everyone's inboxes. Each year, The Waverly Computer Society runs Perfect Match, an online personality survey that pairs up Waverly Owls with their supposed soul mates. Now the campus is overrun with peculiar pairings, odd couples, and mischief makers hoping to play Cupid for a day.
In this final dramatic
It Girl
novel, the Waverly Owls ponder an age-old question: is all really fair in love
and
war?
Review:
Classic
is the tenth and final novel in the
It Girl
series, and is a great end to what is definitely one of my all-time favourite series. There's all the usual drama I've become accustomed to, as well as brilliantly funny dialogue (Heath Ferro should be immortalised forever), new scandals and a look at the many Waverly relationships.
Classic
sees Jenny Humphrey's last semester of her first year at Waverly, and as usual nothing runs smoothly. Valentine's Day brings brings with a whole host of stress amongst the students, thanks to the school's 'Perfect Match' survey. People are partnered with who the computer thinks is their perfect match, and though some people are happy, others are miffed by who they're supposed to be with. As you can imagine, this creates some serious havoc for the Waverly girls, and I loved every page of it.
Relationships, both romantic and platonic, are tested in
Classic
, which is par for the course when it comes to Jenny and her super-hot, super-rich friends. Tinsley and Brett devise a diabolical plan to take down a fellow student, Callie is stuck in the middle of the most frustrating love triangle with Easy and Brandon, and Jenny finds out just what it's like to be lied to. Honestly, if I were any of these girls, I would have upped and moved by now, probably to a convent somewhere. How they've stuck through 10 books of tumultuous relationships, bitch fights and drug-induced clinches is beyond me, but somehow they have. Well done, girls - you made it through the year!
I'm sad this series has now finished, and I'm really going to miss it. It's in no way a literary classic, but I absolutely love it. It's like
Gossip Girl
but better, and I think it's quite unusual for a spin-off series to outshine its source.
It Girl
has, though, and kudos to Ziegesar's ghost writer. Whoever you are, you've managed to entertain me for 10 books, and for that I thank you.
Long live Waverly!