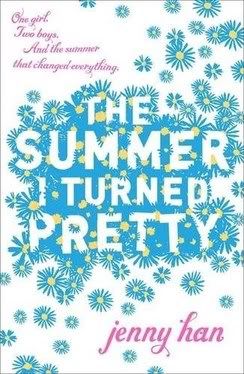 Publisher:
Puffin
Format:
Paperback
Released:
June 3rd, 2010
Grade rating:
A
Amazon summary:
Everything that happened this past summer, and every summer before it, has all led up to this. To now. Every year Isabel spends a perfect summer at her family friends' house. There's the swimming pool at night, the private stretch of sandy beach . . . and the two boys. Unavailable, aloof Conrad – who she's been in love with forever – and friendly, relaxed Jeremiah, the only one who's ever really paid her any attention. But this year something is different. They seem to have noticed her for the first time. It's going to be an amazing summer – and one she'll never forget...
Review:
Everytime I think about
The Summer I Turned Pretty
, I end up with a huge grin on my face. Jenny Han's writing is fantastic, the boys are gorgeous, and Belly is definitely high on my list of best female characters. If you want a summer read with charm and romance, then this is the one for you.
Belly goes to the beach house every summer, to spend time with her mum's best friend Susannah, and her sons Conrad and Jeremiah. Before now, she's been like a sister to them, much to her growing annoyance. However, this summer, something changes, and they actually notice her in the way she wants them to. This summer is all about growing up, with an emphasis on how all relationships inevitably change and evolve.
Jeremiah is sweet and caring, while older brother Conrad is more closed off and aloof. Both boys have attractive qualities and attributes, and it's really hard to choose between them. Just when I thought I had a clear favourite, one of them would say or do something to make me change my mind. I've come to the conclusion that I'm supposed to love them both equally, so I'll just leave it at that (though I think Conrad would *just* win, if I really had to choose). Belly is one lucky girl!
If you're a fan of
The Boys Next Door
by Jennifer Echols, run out and get a copy of this right now - I guarantee you'll want to join the Jenny Han fanclub ASAP.
The Summer I Turned Pretty
is realistic and relatable and, while not the most original of ideas, it's the writing and characters that will draw you in. It's a stroke of YA genius, and I thoroughly enjoyed every single page.