P.C. Cast's new adult book,
The Avenger
, has just been published as the first title in Mills and Boon's
Nocturne
range, and P.C. is taking part in a blog tour of interviews in order to promote it. Here's my quick Q&A with here, along with some extras below! Thanks to P.C. for her time.
----------

What can

House of Night

fans expect from your new adult novel,

The Avenger

?
THE AVENGER
is aimed at an adult audience, unlike the
House of Night
books which are all young adult. That being said, I dislike the idea that genres aren't fluid. A good story is a good story, no matter the intended audience. I think my HoN fans who are not too young will love
THE AVENGER
, especially as it deals with Boudicca and her daughters – and in the HoN world it is Boudicca's daughters who begin the Dark Daughters!
Can

The Avenger

be seen as a

House of Night

spin-off?
THE AVENGER
isn't really a HoN spinoff. What happened is that I was approached to write one of the
Time Raiders
novels for Nocturne because I am a military veteran (all of the authors of the
Time Raiders
series are). I was interested because the idea of vets writing with military heroines sounded fun, and then when I saw that Boudicca was one of the choices proposed for time travel I was intrigued as I had been researching her because I decided her daughters would begin the House of Night Dark Daughters. So I happily signed on!
After writing extensively for both YA and adult audiences, do you find that you now have a preference?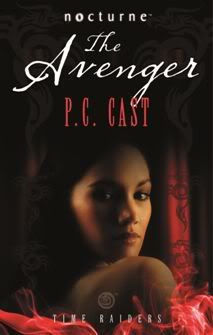 I've found that I enjoy going back and forth. It's nice to write for adults and not have to worry about appropriate content, and it's also nice to return to the intense coming of age issues that go along with YA.
Your books are always full of shocking plot twists and turns. Do you deliberately set out to put your fans through the emotional wringer?
Absolutely! The truth is that I put myself through an emotional wringer each time, too. If I laugh and cry and scream along with my readers, then I feel like I'm doing my job as an author.
Why do you think paranormal romance has become so popular with teenagers? Is it the bad boys, or the dangerous romance?
I think it's the limitless possibilities paranormal worlds create. Who doesn't want to believe in magic?
Who is your favourite bad boy from YA fiction?
Kalona. Definitely.
What genre would you like to write for that you haven't already?
I'd like to write a horror novel!
Would you like to write more adult novels for Mills and Boon's new

Nocturne

range?
Yes, definitely! I love the
Nocturne
line and have ideas for at least three more books for them.
----------